MikroTik cAP ax WiFi 6 Ceiling Access Point 802.11ax - cAPGi-5HaxD2HaxD - EU PSU
MikroTik cAPGi-5HaxD2HaxD-EU
£120.00
Availability: Despatched next working day
Linitx Quick Code # 17382
Manufacturer SKU: cAPGi-5HaxD2HaxD-EU

Manufacturer: MikroTik
Quantity
1+
10+
20+
50+
100+
250+
Price
£100.00

EXC VAT

£99.00

EXC VAT

£98.00

EXC VAT

£96.50

EXC VAT

£95.00

EXC VAT

Call Us 01449 888000

|
|
|
|
MikroTik cAP ax WiFi 6 Ceiling Access Point - cAPGi-5HaxD2HaxD

The MikroTik cAP ax (cAPGi-5HaxD2HaxD) features a quad-core 1.8 GHz CPU, 1GB of RAM, and NAND storage; this high-spec enables the cAP ax to take advantage of the most powerful networking software on the market – RouterOS v7; from complex firewall rules, IPsec hardware encryption, Wireguard, BGP, advanced routing, or multiple remote work VPN tunnels – RouterOS v7 and the cAP ax has you covered.

The cAP ax's form factor allows unobtrusive installation, attracting as much attention as a ceiling mounted smoke detector. No matter where you install the cAP ax, your clients, guests, or colleagues won't even notice it, but they will definitely notice the ultra-fast WiFi 6 speeds!
The cAPGi-5HaxD2HaxD offers 802.11ax WiFi 6 wireless standard, where you can expect 40% higher speed in the 5 GHz and up to 90% higher speed in the 2.4 GHz spectrum, compared to previous wireless standards. Users have the added benefit of encountering less wireless interference, experiencing one of the most stable and uninterrupted wireless signals to date.
With its PoE-in and PoE-out, users can also take advantage of the cAP ax to power other devices, including network switches, CCTV cameras, or even other cAP ax access points. For more advanced users, access to the latest wifiwave2 CAPsMAN central management system is available in just a few clicks, allowing setup of hundreds of cAP ax devices.


MikroTik cAP ax Specifications


Product code
cAPGi-5HaxD2HaxD
CPU
Quad core IPQ-6010 1.8 GHz
Size of RAM
1 GB
RAM type
DDR3L
Storage
128 MB, NAND
Number of 1G Ethernet ports
2
Wireless interface model
QCN-5022 (2.4 GHz), QCN-5052 (5 GHz)
Wireless
2.4 GHz 802.11b/g/n/ax dual-chain, 5 GHz 802.11a/n/ac/ax dual-chain
Antenna gain
5.5 dBi
Operating system
RouterOS v7, License level 4
Switch chip model
IPQ-6010
Dimensions
191 x 42 mm
Operating temperature
-40°C to +70°C tested

cAP ax Powering



PoE-In
802.3af/at
PoE-Out
Passive PoE up to 57V (<30v DC jack must be used, >30V PoE-In and DC jack can be used)
PoE-Out ports
Ether2, max out per port output (input < 30 V): 600 mA, max out per port output (input > 30 V): 400 mA. Over 300 mA current, please use DC jack for powering device.
Number of DC inputs
2
Supported input voltage
18-57 V (DC jack) 18-57 (PoE-In)
Max power consumption (without attachments)
9 W
Max power consumption
28.2 W
Box Contents:
cAP ax
48 V 0.95 A power adapter

Gigabit PoE injector

Ceiling mount

Fastening set

There are no reviews for this product yet.
There are no datasheets for this product yet.
Alternative Products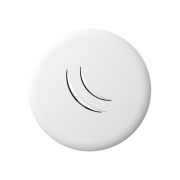 RBcAPL-2nD
MikroTik RouterBoard cA
42 in stock
View Product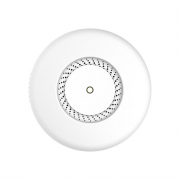 RBcAPGi-5acD2nD
MikroTik RouterBoard cA
155 in stock
View Product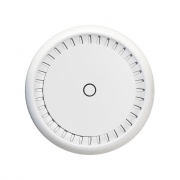 RBcAPGi-5acD2nD-XL
Mikrotik CAP AC XL Wire
108 in stock
View Product
Frequently Purchased Together
BCA-BK-3A
LinITX Pro Series EU to
254 in stock
View Product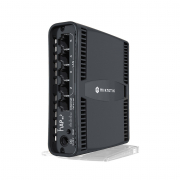 C52iG-5HaxD2HaxD-TC
MikroTik hAP ax2 WiFi 6
487 in stock
View Product