MikroTik Chateau Home Router Access Point With Class 12 LTE - RBD53G-5HacD2HnD-TC+EG12-EA
MikroTik RBD53G-5HacD2HnD-TC&EG12-EA
On Order
0 available

8 arriving 18-Feb-2022


Login to preorder
£228.00
Availability:Pre-Order Available
Linitx Quick Code # 16413
Manufacturer SKU: RBD53G-5HacD2HnD-TC&EG12-EA

Manufacturer: MikroTik
Quantity
1+
10+
20+
50+
100+
250+
Price
£190.00

EXC VAT

£188.10

EXC VAT

£186.20

EXC VAT

£183.35

EXC VAT

£180.50

EXC VAT

Call Us 01449 888000

|
|
|
|
MikroTik Chateau Home Router Access Point With Class 12 LTE - RBD53G-5HacD2HnD-TC&EG12-EA
The MikroTik Chateau LTE12 Home Router AP with LTE was designed to be the perfect solution for home users living in rural areas still covered by 3/4G LTE. It offers an All-In-One solution for an extremely diverse client base, a high-speed, dual-band home access point with CAT12 LTE support.
Please note that the Chateau is only compatible with RouterOS version7 which is only currently in beta, and does not yet have all of the functionality of previous RouterOS versions.
Perfect for busy homes - Equipped with strong dual-chain, dual-band 2.4/5 GHz wireless for concurrent coverage in crowded environments and tasks that are sensitive to packet loss - such as streaming high-quality online content.
Built with security in mind - Secure from design to manufacturing. In addition to MikroTiks RouterOS software featuring a suit of robust security options, there is no outsourcing, every device is assembled in MikroTiks premises and all the components come from reputable, trusted partners - such as Qualcomm. Cooperating with European law-makers MikroTik work hard to ensure full compliance with all the necessary safety policies, for smooth long-term cooperation without surprises.
Enjoy all the benefits of LTE Category 12 networking - Reach speeds of up to 600Mbps with carrier aggregation, CAT12 allows devices to use three bands at the same time. A huge advantage when there are an abundance of LTE users in the area. The Chateau LTE12 provides better responsiveness in a crowded environment and higher efficiency for rural situations with weaker signal. Depending on the service provider, Internet speeds can double in rural areas after switching to carrier aggregation.
RBD53G-5HacD2HnD-TC&EG12-EA
CPU
4 core IPQ-4019 716 MHz
Size of RAM
256 MB
Storage
16 MB flash
Number of 1 GbE Ethernet ports
5
Wireless
2.4 GHz 802.11b/g/n dual-chain, 5 GHz 802.11a/n/ac dual-chain
Wireless regulations
Specific frequency range will be limited by country regulations
Wireless antenna max gain
2.5 dBi
LTE category
12 (600 Mbps Downlink, 150 Mbps Uplink), the LTE chip is built-in,
4x4 MIMO LTE support
LTE antenna max gain
4 dBi, option for external SMA conector
LTE bands
1/3/5/7/8/20/28/38/40/41
LTE max speed
600 Mbps
LTE carrier aggregation
Yes
Antenna beam width
360
Supported input voltage
DC jack 12 - 28 V
Dimensions
240 x 156 x 44 mm
Operating temperature
-40C to +70C
Operating system
RouterOS 7.0 (compatible only with v7 and above)
Micro SIM slots
1
USB port
1 USB 2.0 port type A
Max power consumption
23 W
Included Parts:
RBD53G-5HacD2HnD-TC&EG12-EA
24V 1.2A UK power adapter
There are no reviews for this product yet.
There are no datasheets for this product yet.
Alternative Products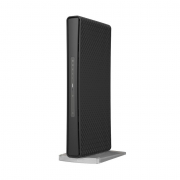 RBD53GR-5HacD2HnD&R
MikroTik RouterBoard hA
124 in stock
View Product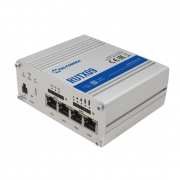 RUTX09000400
Teltonika RUTX09 LTE Ca
14 in stock
View Product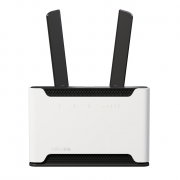 D53G-5HacD2HnD-TC&R
Mikrotik Chateau 5G Dua
40 on order
On Backorder
Frequently Purchased Together