Siklu EtherHaul 70/80GHz E-Band PtP Point to Point Radio Carrier-Grade 10GBps FDD - EH-8010FX-ODU-H-EXT
Siklu EH-8010FX-ODU-H-EXT
£4,980.00
Availability:DISCONTINUED
Linitx Quick Code # 15862
Manufacturer SKU: EH-8010FX-ODU-H-EXT

Manufacturer: Siklu
Quantity
1+
10+
20+
50+
100+
250+
Price
£4,150.00

EXC VAT

£4,108.50

EXC VAT

£4,067.00

EXC VAT

£4,004.75

EXC VAT

£3,942.50

EXC VAT

Call Us 01449 724255
This product is "End Of Life"

|
|
|
|
The Siklu EtherHaul EH-8010FX-ODU-H-EXT is a High Band E-Band PtP radio designed to operate in a pair with the Low Band EH-8010FD-ODU-L-EXT counterpart. This Enables them to achieve Frequency Division Duplexing (FDD). FDD requires two separate wireless communications channels on separate frequencies, one for transmit and the other for received data. The EH-8010FX-H delivers carrier-grade ultra high capacity wireless point-to-point (PtP) Ethernet. With up to 10Gbps full-duplex over the uncongested 70/80GHz spectrum, the EH-8010-H provides WISPs and businesses around the world with an affordable, advanced and robust wireless solution that is easy to install and maintain.
Applications for a Wide Range of Markets;
Fiber Network Extension/ Backup
Enterprise Multi Gigabit-Connectivity
Metro and Aggregation Networks
Multi-Dwelling Unit Gigabit Broadband
10Gbps Over Long Distance - The EH-8010FX radio can deliver up to 10Gbps full-duplex point-to-point wireless Ethernet connectivity with a huge mmWave reach thanks to the highest system gain in the market.
Carrier Class Construction and Performance - High-throughput and low-latency combine to deliver fiber like performance. The EH-8010FX incorporates adaptive bandwidth coding and modulation for high availability and easy integration with Ethernet switches or MPLS routers.
Small Size, Easy to Deploy & Manage - The all-outdoor radio has a small form factor and is light-weight which makes site acquisition a breeze. The radio comes pre-configured out of the box with no licenses to download, greatly simplifying the time and cost of installation.
Exceptional Value - With its IP67 construction, the EH-8010FX is built to be extremely rugged and designed to operate for years in the harshest conditions. The advanced 10Gbps system delivers an unbeatable price per Gb. Its small and light design lowers installation costs, increases reliability and reduces site visits.
Massive Spectrum Availability, and High Reuse - The Siklu EH-8010FX operates over the virtually interference-free 71-76/81-86GHz E-band spectrum, with a total of 10GHz of bandwidth for use worldwide. Using a high-gain, pencil thin beam-width antenna helps guarantee spectrum will be available everywhere and maximises spectrum re-use.
EH-8010FX-ODU-H-EXT
Frequency / Duplexing
71-76GHz / 81-86GHz, FDD
Channel Bandwidth,
Modulation & Adaptive Rate
2,000MHz
Up to 9 levels of hitless adaptive bandwidth, coding and modulation - boost gain by over 25dB
Throughput
10,000Mbps full duplex
Tx Power
BPSK: +18dBm
QAM128: +14dBm
Receive Signal Level (RSL)
RSL @ BPSK = -75dBm
RSL @ QAM128 = -50dBm
Reach
1.7/2.3 mile @ 99.95% availability (rain zone K/E, 2ft ANT.)
Interfaces
1 combo 10GE port: 802.3bz (RJ-45, CAT6a or better) or SFP+ (MMF or SMF)
1GE port: 802.3ab (RJ-45, CAT5 or better)
Power Supply
PoE+ or 36÷57VDC; 50W
Management & Provisioning
In / Out-of-band management
Web GUI or CLI
SNMPv2/3, TACACS+, RADIUS
Zero-touch turn-up
Traffic Management
Transparent Bridge, VLAN encapsulation
Conformance
Radio: USA FCC Part 15.101 & ETSI EN 302 217; EMC: USA FCC 47CFR.part 15 & ETSI EN 301 489;
Safety UL/EN 60950
Environmental
Operating Temperature: -45 to +55C
Ingress Protection Rating: IP67
Dimensions
ODU + 0.5ft antenna: 23.3cm x 20.6cm x 14.1cm
ODU + 1ft antenna (Dia. x Depth) 32cm x 13cm
ODU + 2ft antenna (Dia. x Depth) 65cm x 37cm
Weight
ODU + 0.5ft antenna: 4.1kg
ODU + 1ft. antenna: 4.4kg
ODU + 2ft. antenna: 10.9kg
There is no box content detail for this product yet.
There are no reviews for this product yet.
There are no datasheets for this product yet.
Frequently Purchased Together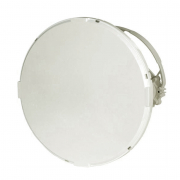 EH-ANT-1ft-B
Siklu 1ft Dish Antenna
1 in stock
View Product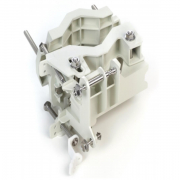 AX-MK-1ft
Siklu EtherHaul Series
0 in stock
View Product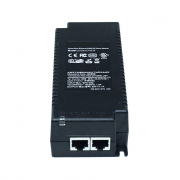 EH-60W-AC-PoE-UK
Siklu 55VDC 60W PoE Inj
0 in stock
View Product