TS-5-POE - Ubiquiti ToughSwitch 5 Port Gigabit Network Switch
The ToughSwitch range is being re-branded to EdgeSwitch.
The TS-5-POE has been discontinued and has now become the EdgeSwitch ES-5XP - please see the direct replacement product Ubiquiti Edgeswitch 5 Port Gigabit Network Switch 24V Passive PoE ES-5XP. This is exactly the same unit, but with a rebrand of the name to EdgeSwitch on the outer casing, all internal components and functionality are exactly the same and unchanged.
The TS-5-POE will be referred to as the ES-5XP part of the EdgeSwitch XP range. With new software features such as UNMS integration. You can upgrade your ToughSwitch to gain these new features using the firmware found on Ubiquiti's Software Download page.
The TouchSwitch PoE 5 is a professional grade 5 port Gigabit switch, offering 60W of power to 24V or connected devices. If you require other power options and port configurations, please check out our range of Ubiquiti EdgeSwitches.
The Ubiquiti ToughSwitch PoE 5 Port Gigabit Switch is part of the advanced PoE (power over Ethernet) controllers in the ToughSwitch range. With its low price point, robust design and efficient PoE delivery, the TS-5-POE is one of the most popular ToughSwitches we stock. This network switch will allow you to tidy up messy cable runs with its neat, all-in-one powering solution - no more power bricks!
The TS-5-POE delivers fast 10/100/1000 Mbps connections speeds to attached devices, as well as reliable passive PoE (power over Ethernet) to all connected Ubiquiti devices and other compatible hardware (with the exception of Air Fibre devices).
For customers requiring power to the AC Mesh Pro UAP-AC-M-PRO and UAP-AC-PRO Unifi Access Points, we highly recommend the 8-port Toughswitch TS-8-PRO set to 48V output, or for large scale deployments, we suggest the UniFi 24 Port PoE Switch US-24-250W or the UniFi 48 Port PoE Switch US-48-500W.
LinITX also stock a complete range of Unifi Network Switches, available in 8, 16, 24 & 48 port configurations with power options of 150w all the way up to 750w. Non-PoE options are also available with similar multiple port options. Please see our entire range of Unifi Network Switches available from LinITX.com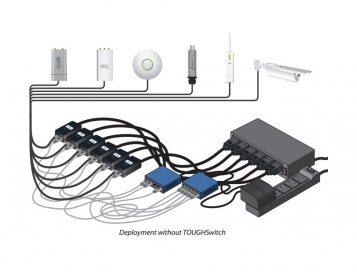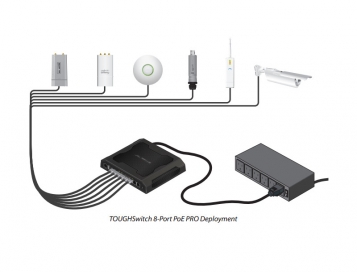 The ToughSwitch series are all managed switch's designed to deliver Power over Ethernet (PoE) on the 10/100/1000 ports you have configured for PoE. It also features a variety of features, including port monitoring, system connection and management services, Virtual Local Area Network (VLAN) configuration, Spanning Tree Protocol (STP), Ping Watchdog, and alerts setup.
The ToughSwitch intuitive interface allows you to conveniently manage your ToughSwitch using your web browser.
Convenient PoE Support The TOUGHSwitch supports 24V ONLY passive PoE to power multiple devices on your network.
Carrier-Class Reliability The TOUGHSwitch delivers uptime performance equal to leading carrier or enterprise technology solutions.
Intuitive UI Designed for efficient setup and control, the graphical user interface is easy to use and manages advanced Layer 2 features, including:
TS-5-POE Specifications:
Port monitoring
System connection and management services
Virtual Local Area Network (VLAN) configuration
Spanning Tree Protocol (STP)/Rapid Spanning Tree Protocol (RSTP)
Jumbo Frame Support
Ping Watchdog
Configurable alerts