MikroTik LoRaWAN Gateway wAP LR8 Kit - RBWAPR-2ND+R11E-LR8
MikroTik RBwAPR-2nD&R11e-LR8
£162.00
Availability: Despatched today
if ordered within the next 0 mins
Linitx Quick Code # 16165
Manufacturer SKU: RBwAPR-2nD&R11e-LR8

Manufacturer: MikroTik
Quantity
1+
10+
20+
50+
100+
250+
Price
£135.00

EXC VAT

£133.65

EXC VAT

£132.30

EXC VAT

£130.28

EXC VAT

£128.25

EXC VAT

Call Us 01449 888000

|
|
|
|
MikroTik RBWAPR-2ND+R11E-LR8 LoRaWAN Gateway 863-870 MHz wAP LR8 Kit
The RBwAPR-2nD&R11e-LoRa8 kit includes a pre-installed UDP packet forwarder to any public or private LoRa server, with an outdoor weatherproof wireless access point featuring a 2.4 GHz wireless interface and Ethernet port.
The RBwAPR-2nD&R11e-LoRa8's form-factor has been tried and tested with many other MikroTik products. It delivers excellent and stable performance in almost any weather conditions.
For network coverage, the wAP LoRa8 offers the option of using the internal 2 dBi antenna or attach an external antenna. For extended network coverage we suggest adding a MikroTik LoRa Antenna kit.
The wAP LoRa8 kit supports the 863-870 MHz frequency range, used in the European Union, Russia, India and others. Its functional and non-intrusive design, high durability and value make it perfect for LoRa enthusiasts of any level.
MikroTik recommend using an external antenna for links over 1KM. By default, the internal antenna is not connected to the card! Please refer to the included QSG for details.
rbwapr-2nd&r11e-lr8, rbwapr-2nd+r11e-lr8, rbwapr-2nd r11e-lr8, rbwapr-2nd-r11e-lr8, wap lr8 kit, RBwAPR-2nD&R11e-LR8, RBwAPR-2nDR11e-LR8
Details
Product code
RBwAPR-2nD&R11e-LoRa8
Architecture
MIPSBE
CPU
QCA9531
CPU core count
1
CPU nominal frequency
650 MHz
License level
4
Size of RAM
64 MB
Storage size
16 MB
Storage type
FLASH
Tested ambient temperature
-40C to 60C
Powering
Powering
Passive PoE
PoE in input Voltage
9-30 V
Number of DC inputs
3 (DC jack, PoE-IN, Automotive)
DC jack input Voltage
9-30 V
Automotive input Voltage
9-30 V
Max power consumption
7 W
Wireless
Antenna gain dBi for 2.4 GHz
2
Wireless 2.4 GHz standards
802.11b/g/n
Wireless 2.4 GHz Max data rate
300 Mbit/s
Wireless 2.4 GHz number of chains
2
Wireless 2.4 GHz chip model
QCA9531
Wi-Fi generation
4
Ethernet
10/100 Ethernet ports
1
Peripherals
Number of SIM slots
1 Modem (Mini SIM)
MiniPCI-e slots
1
Other
PCB temperature monitor
Yes
Voltage Monitor
Yes
Included Parts:
RBwAPR-2nD&R11e-LoRa8
24V 0.8A power adapter
PoE injector
0.35m 4pin Automotive adapter cable
wAP desktop stand
wAP mount bracket
Jubilee Clip
There are no reviews for this product yet.
Alternative Products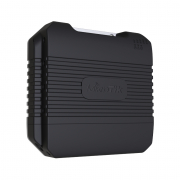 RBLtAP-2HnD&R11e-LT
MikroTik LoRaWAN Gatewa
0 on order
On Backorder
Frequently Purchased Together