MikroTik RouterBoard mAP Lite Wireless Access Point - RBmAPL-2nD (UK PSU)
MikroTik RBmAPL-2nD
£30.00
Availability: Despatched today
if ordered within the next 0 mins
Linitx Quick Code # 14639
Manufacturer SKU: RBmAPL-2nD

Manufacturer: MikroTik

|
|
|
|
MikroTik RouterBoard mAP Lite Wireless Access Point - RBmAPL-2nD
The MikroTik mAP Lite can Be powered by PoE or Micro USB
MikroTik mAP lite is the smallest Mikrotik wireless access point to date. It is barely larger than a matchbox and uses a special Ethernet port to match its slim profile.
You can carry it anywhere: use it as a travel router to extend hotel internet to all your devices, or as a client device to improve your laptop signal range. The tiny form factor mAP lite can travel with you.
The MikroTik mAP lite comes with a built-in magnet, so you can attach it to any ferrous surface, or, if those are not available, a metallic plate with an adhesive back is also included.
The mAP lite can also serve as a simple configuration tool for your servers, if there is no ethernet on your mobile device, plus, it neatly attaches to the rack with its magnet.
The mAP lite is a dual chain 802.11 b/g/n device and operates in 2GHz.
MikroTik RBmAPL-2nD Specifications
10/100/1000 Ethernet ports
None
CPU nominal frequency
650 MHz
Max power consumption (W)
3.5 W
PoE in input Voltage
10-60 V
Wireless 1 Number of chains
2
Ethernet test results:
RBmAPL-2nD
QCA9533 100M one port test
Mode
Configuration
1518 byte
512 byte
64 byte
kpps
Mbps
kpps
Mbps
kpps
Mbps
Bridging
none (fast path)
8.1
98.4
23.5
96.3
173.6
88.9
Bridging
25 bridge filter rules
8.1
98.4
23.5
96.3
82.2
42.1
Routing
none (fast path)
8.1
98.4
23.5
96.3
160.8
82.3
Routing
25 simple queues
8.1
98.4
23.5
96.3
118.7
60.8
Routing
25 ip filter rules
8.1
98.4
23.5
96.3
53.9
27.6
Box Contents:
mAP Lite RBmAPL-2nD
5V 1A UK power adapter
K-44 mount kit


There are no reviews for this product yet.
Alternative Products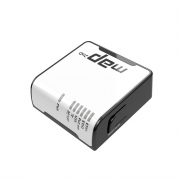 RBmAP2nD
MikroTik mAP Mini Acces
49 in stock
View Product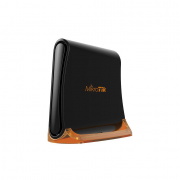 RB931-2nD
MikroTik RouterBoard hA
0 in stock
View Product
Frequently Purchased Together