MikroTik Wireless Wire nRAY PtP Link - nRAYG-60adpair
MikroTik nRAYG-60adpair
£288.00
Availability: Despatched today
if ordered within the next 0 mins
Linitx Quick Code # 16600
Manufacturer SKU: nRAYG-60adpair

Manufacturer: MikroTik
Quantity
1+
10+
20+
50+
100+
250+
Price
£240.00

EXC VAT

£237.60

EXC VAT

£235.20

EXC VAT

£231.60

EXC VAT

£228.00

EXC VAT

Call Us 01449 888000

|
|
|
|
MikroTik Wireless Wire nRAY 2 Gb/s 1500m Range - nRAYG-60adpair
Built on your feedback the nRAYG is the successor of the popular Wireless Wire Dish. MikroTik are introducing one of the best plug-and-play 60GHz point-to-point link solutions to date, the Wireless Wire nRAY.
The Wireless Wire nRAY kit is comprised of two pre-paired devices that make a secure AES encrypted wireless connection, covering a distance of 1500 meters at fiber-like speeds.
With its new design, there's no need to worry about chunks of snow or ice ruining the nRAY's signal. Perfect alignment can easily be achieved with the nRAY's fine-tune adjustment screws.
Users can enjoy a solid connection, even in an RF dense urban environment - due to 60GHz being unaffected by a crowded wireless spectrum. Inside the nRAY is a powerful arm64 dual-core CPU running at 1 GHz.
Wireless Wire nRAY kit includes pre-configured components to connect automatically, simply point them at one another and power them on. Power supplies are also included along with PoE injectors and a precision mount for simple alignment - the solidMOUNT.
Note that all new installations in the UK after 12th May 2021 are required to be covered by a Spectrum Access EHF licence. Existing installations which were installed prior to this will need to be covered by a Spectrum Access EHF licence from the 30th November 2021.
nRAYG-60adpair Specifications
Product code
nRAYG-60adpair
Architecture
ARM 64bit
CPU
88F3720
CPU core count
2
CPU nominal frequency
1 GHz
Dimensions
261 x 166 mm
RouterOS license
3
Operating System
RouterOS
Size of RAM
256 MB
Storage size
16 MB
Storage type
FLASH
Tested ambient temperature
-30°C to 70°C
MTBF
Approximately 200'000 hours at 25C
PoE in
802.3af/at
PoE in input Voltage
12-57 V
Number of DC inputs
1 (PoE-IN)
Max power consumption
6 W
FAN count
Passive
10/100/1000 Ethernet ports
1
Included parts:
nRAYG-60adpair
2 x 24V 0.38A power adapter
2 x nRAY solidMOUNT
2 x Gigabit PoE injector
There are no reviews for this product yet.
Alternative Products
RBwAPG-60adkit
MikroTik Wireless Wire
12 in stock
View Product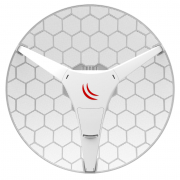 RBLHGG-60ad
MikroTik High-Speed 60G
5 in stock
View Product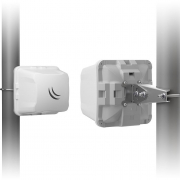 CUBEG-5AC60ADPAIR
MikroTik Wireless Wire
52 in stock
View Product
Frequently Purchased Together