Netonix WS-26-400-AC-NCS WISP 24 Port PoE 400W Switch - No Current Sensor
Netonix WS-26-400-AC-NCS
£864.00
Availability:Awaiting Date from Manufacturer
Linitx Quick Code # 17020
Manufacturer SKU: WS-26-400-AC-NCS

Manufacturer: Netonix
Quantity
1+
10+
20+
50+
100+
250+
Price
£720.00

EXC VAT

£712.80

EXC VAT

£705.60

EXC VAT

£694.80

EXC VAT

£684.00

EXC VAT

Call Us 01449 888000

|
|
|
|
Netonix WS-26-400-AC-NCS WISP PoE Switch - No Current Sensor
The Netonix WISP Switch model WS-26-400-AC is designed for the WISP industry with extended operating temperature range and rugged chassis.
WS-26-400-AC features a simple yet powerful user interface providing the software features WISPs need in a switch.
Optional rack mount kit sold separately.
Specifications:

Manufactured / Assembled North America
Standard 19" rack mount / Desktop / Wall mount YES
Dimensions (W x D x H) 343mm x 273mm x 44mm
Weight <4kg
Power Input 210-230 & 110-120 VAC
Chassis Earth Ground Lug YES
Max. Power Consumption 400 Watts
Intelligent Forced Air Cooling With Fan RPM Monitoring YES
Switch Core and PHYs Vitesse
Processor MIPS 24K 416 MHz
System Memory 128 MB
Flash Storage 16 MB
Total Non-Blocking Line Rate 26 Gbps
Certifications CE, FCC, IC
Operating Temperature -25 to 55°C (-13 to 131° F)
Operating Humidity 5 to 95% Non-Condensing
Console Port RS-232
Ethernet Ports (24) 10/100/1000 Ethernet Ports
(2) SFP Ports
Passive POE Configured Per Port via UI / CLI 24V 0.75A pins 4,5(+) 7,8(-)
48V 0.75A pins 4,5(+) 7,8(-)
24VH 1.5A pins 1,2,4,5(+) 3,6,7,8(-)
48VH 1.5A pins 1,2,4,5(+) 3,6,7,8(-)
POE Out Voltage Range 50 VDC / 24 VDC
Passive POE Current Sensors Per Port YES
ESD Rating 24 kV Air / 24 kV Contact
There is no box content detail for this product yet.
There are no reviews for this product yet.
There are no datasheets for this product yet.
Frequently Purchased Together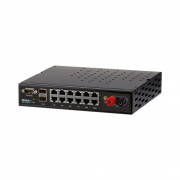 WS-12-250-DC-NCS
Netonix WS-12-250-DC-NC
0 in stock
View Product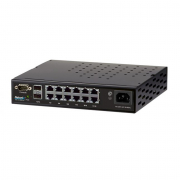 WS-12-250-AC-NCS
Netonix WS-12-250-AC-NC
0 in stock
View Product