RF elements Twin Horn Bracket - THB
RF elements THB
£87.60
Availability: Despatched today
if ordered within the next 0 mins
Linitx Quick Code # 16787
Manufacturer SKU: THB

Manufacturer: RF elements
Quantity
1+
10+
20+
50+
100+
250+
Price
£73.00

EXC VAT

£72.27

EXC VAT

£71.54

EXC VAT

£70.45

EXC VAT

£69.35

EXC VAT

Call Us 01449 888000

|
|
|
|
RF elements Twin Horn Bracket - THB
The RF Elements THB bracket allows the install of two Gen2 Symmetrical Horn antennas at exactly the same alignment while also accommodating mainstream 4x4 radio's such as the Cambium ePMP 3000 and Mimosa A5c on the removable bracket to simplify High Density sector or 4x4 deployments.
The Twin Horn Bracket is also compatible with any radios that have a TwistPort offering apart from Cambium Networks ePMP 1000 series, ePMP 3000L AP, ePMP 300 CSM and ePMP Force 400C radios as these are too long to fit two units onto the bracket.

Twin Horn Bracket


General
Materials
Aluminium and Zinc Alloy, Stainless Steel
UV stabilised and weather resistant ABS plastic
Environmental
IP55
Pole Mounting Diameter
40-80 mm (recommend as close to 80 mm as possible)
Temperature
-40°C to +60°C
Wind Survival
160 km/hour
Mechanical Adjustment
± 20° Elevation, ± 20° Azimuth
Weight
2.5 kg
Dimensions
449 x 175 x 309 mm
Compatible Wireless Platforms
RF elements
Any Gen2 Symmetrical Horn TP/CC Antennas
TwistPort adaptor & radio combinations
TP-ADAP-e2K + ePMP 2000
All radios compatible with: TP-ADAP-IS, TPA-PAF, TPA-R5AC, TPA-RM5, TPA-A5x, TPA-C5x, TP-ADAP-C5c, TPA-RBC, TPA-RBP, TPA-SMA
Cambium Networks
ePMP 3000
Mimosa Networks
A5c
1 x Twin Horn Bracket
1 x Pole Mounting Bracket
1 x 5 mm Hex Key
There are no reviews for this product yet.
There are no datasheets for this product yet.
Frequently Purchased Together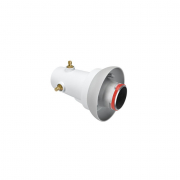 TPA-SMA
RF Elements TwistPort A
12 in stock
View Product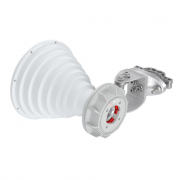 HG3-TP-S30
RF elements 30 Degree S
16 in stock
View Product