Tycon 10G DC to DC Converter 56V 70W 802.3bt PoE Out - TP-DCDC-2456GD-BT
Tycon TP-DCDC-2456GD-BT
£162.00
Availability: Despatched today
if ordered within the next 0 mins
Linitx Quick Code # 16978
Manufacturer SKU: TP-DCDC-2456GD-BT

Manufacturer: Tycon Systems
Quantity
1+
10+
20+
50+
100+
250+
Price
£135.00

EXC VAT

£133.65

EXC VAT

£132.30

EXC VAT

£130.28

EXC VAT

£128.25

EXC VAT

Call Us 01449 888000

|
|
|
|
Tycon Systems DC to DC Converter 56V 70W 802.3bt PoE Out - TP-DCDC-2456GD-BT
The Tycon Systems TP-DCDC-2456GD-BT is a high power DC to DC converter and 802.3at/bt POE injector designed for professional industrial applications. The TP-DCDC-2456GD-BT is fully compliant with the IEEE802.3bt POE standard and supplies 56VDC on all 4 ethernet pairs.
TP-DCDC-2456GD-BT can also be used to safely power 802.3at and 802.3af devices as it is backward compatible with these standards. The TP-DCDC-2456GD-BT boasts an isolated input and output allowing it to operate in a negative or positive ground system, as well as various low voltage, surge, short circuit, and overload protections.
The TP-DCDC-2456GD-BT's robust system is further enhanced with two DC inputs which allows for a primary and back up power source. Overall the TP-DCDC-2456GD-BT is an extremely cost-efficient option for applications where an 18-36VDC supply is available.
Features:
Input voltage of 18-36VDC
4 Pair 56VDC 802.3bt POE Output
High power output to 70W
Dual DC Inputs for connecting two power sources
Gigabit data throughput
Low voltage disconnect feature
Short circuit, over current and reverse/over voltage protection
Industrial operating temperature range of -40°C to +70°C
TP-DCDC-2456GD-BT
Input Voltage
+/- 18VDC to 36VDC
DC Input Connector
Removeable screw type compression wire terminal, 5 in (12 AWG Max)
POE Specification
IEEE802.3bt (4 pair); backward compatible with 802.3at and 802.3af
Output Voltage (+/- 2.5%)
56VDC
Data Throughput
CAT6A or better cable: 10Gbps at 80 m, 5Gbps at 100 m
CAT5E cable: 5Gbps at 100 m
Data in and Data/POE Output Connector
RJ45 (Shielded)
Max Output Current
1.25A
Max Output Power
70W
Unit Power Consumption
2W
Efficiency
80% Minimum
Low Voltage Protection
<16V disable input
Surge Protection
30kV (IEC 61000-4-2,-4,-5)
Line Regulation, Ripple, Noise
1%
Load Regulation
5%
EMC Standards
FCC Class B EN55022 Class B
Safety Standards
CSA 22.2 and TUV EN60950
Operating Temperature
-40°C to +70°C
Operating Humidity
5%-90%
Storage Temperature
-40°C to +85°C
MTBF
55,489 Hours
Dimensions (L x W x H)
125 x 75 x 38 mm
Weight
255g
LED Function
Top LED: Power On (Green)
Left RJ45 LED Mode A pints 1, 2, 3, 6
Right RJ45 LED Mode B Pins 4, 5, 6, 8
Green: Handshake valid, POE on
Off: No device detected
There are no reviews for this product yet.
Frequently Purchased Together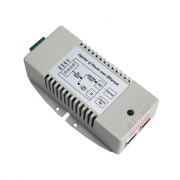 TP-DCDC-1248GD-HP
Tycon DC to DC Converte
3 in stock
View Product