The EdgeRouter X, part of the Ubiquiti EdgeMax series, from Ubiquiti Networks is housed in a compact, fanless enclosure and operates quietly as it delivers the powerful routing, security and management features that you require to efficiently run your network.
Interfaces - Each Gigabit port functions as an independent interface. You can also configure Virtual Local Area Network (VLAN) interfaces to meet your network segmentation requirements.
Routing - Configure Static routes and dynamic routing protocols to effectively manage the routes used by the EdgeRouter.
Firewall Policies - Organize the rules you apply in the order you specify.
Firewall Groups - Apply the polices to groups filtered by IP address, network address or port number.
NAT Rules - The EdgeRouter Lite changes packet addressing based on your customized source and destination NAT rules.
DHCP Server - Set up multiple DHCP servers to assign IP ranges in different subnets on the different interfaces. Easily control dynamic and static IP addressing for your network devices.
Monitoring Tools - Conveniently track network activity and devices from tools such as Ping, Trace, Discover, Packet Capture and Log Monitor.
User Accounts - Manage access to the EdgeRouter Lite using unique administrator and operator accounts.
Intuitive User Interface - The EdgeRouter Lite provides and graphical user interface designed for convenient setup and control. Accessed via a network port and web browser, the user-friendly interface provides intuitive management with a virtual view of the ports, displaying physical connectivity, speed and status. The Dashboard displays details statistics: IP information, MTU, transmit and receive speeds and status for each physical and virtual interface.
Hardware Specifications: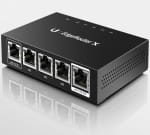 Dimensions: 110 x 75 x 22mm
Weight: 175g
Power Input: 12V DC 1A Power Adapter or 24V Passive POE
Processor: Dual-Core 880Mhz MIPS1004Kc
System Memory: 256MB DDR3 RAM
Onboard code Storage: 256MB NAND
Networking Interfaces:

Data/POE Input Ports: 1 10/100/1000 Ethernet Ports
Data Ports: 3 10/100/1000 Ethernet Ports
Data/POE Output Ports: 1 10/100/1000 Ethernet Ports
The Ubiquiti EdgeMax Lite series of devices are the smaller, lower port count versions of the Ubiquiti EdgeMax series of products.
Below is a brief video guide showing where to download EdgeMAX firmware from Ubiquiti's website and the steps to upload the firmware onto an EdgeRouter via EdgeOS web GUI.
---
Christopher
1 year ago

Collected by Trustpilot
Excellent device at a very reasonable price. Handles my 400Mbit connection with ease even with the DPI features turned on. May be a little complicated for a begginer but has a large amount of features available to a power user network admin.
---
William
2 years ago

Collected by Trustpilot
Very nice, Juniper-like feel. So far, rock solid. A pity it doesn't support IPv6 as a pppoe server or I'd be replacing all of our Mikrotik routers with this and its larger siblings.
---
Will
2 years ago

Collected by Trustpilot
Well featured router, but set-up wizard doesn't allow anything other than 192.168.1.0/24 to be used for lan and no dns for local lan without use of cli commands to swap to dnsmasq
---
Rodden
2 years ago

Collected by Trustpilot
Surprisingly easy to set up, but dont enable the performance enhancing' functions in the console as that causes it to lock up - Required a hard reset. Solid as a rock after that however.
---
Connor
3 years ago

Collected by Trustpilot
A very good device but it can be a tricky to setup if your setup is a little out of the ordinary. However ubiquity support will try to assist however they can.
---