Ubiquiti UniFi Access Electric Lock - UA-Lock-Electric
Ubiquiti UA-Lock-Electric
On Order
0 available

16 arriving 6-Oct-2023


Login to preorder
£84.00
Availability:Pre-Order Available
Linitx Quick Code # 17533
Manufacturer SKU: UA-Lock-Electric

Manufacturer: Ubiquiti Inc
Quantity
1+
10+
20+
50+
100+
250+
Price
£70.00

EXC VAT

£69.30

EXC VAT

£68.60

EXC VAT

£67.55

EXC VAT

£66.50

EXC VAT

Call Us 01449 888000

|
|
|
|
Ubiquiti UniFi Access UA-Lock-Electric
At a Glance:
Fail-secure electric strike lock that connects to a UniFi Access Hub (UA Hub)
Holds up to 1,200 kg (2,645 lb)
Can be installed on an aluminium, steel, or wooden door frame
ANSI-compliant design
Unlock a new era of security and accessibility with the UniFi Access UA-Lock-Electric. This cutting-edge electric lock combines advanced technology with unparalleled convenience, making it the perfect solution for securing your premises while streamlining entry for authorised users.
Reliable Electric Locking Mechanism: The UA-Lock-Electric features a robust and dependable electric locking mechanism that provides immediate, secure access control. With this electric lock, you can trust that your facility is protected at all times.

Seamless Integration: Designed to seamlessly integrate with the UniFi Access system, this lock offers centralised management of access permissions and activity monitoring. Enjoy a comprehensive access control solution that simplifies administration and enhances security.
Exceptional Durability: Built to withstand the rigors of daily use, the UA-Lock-Electric is constructed with durability in mind. It's engineered to provide years of trouble-free service, ensuring long-term value and peace of mind.

Stylish and Discreet Design: This electric lock boasts a sleek and unobtrusive design, blending seamlessly into any architectural style. It enhances the aesthetics of your entry points while providing robust security.
User-Friendly Installation: Installing the UA-Lock-Electric is simple, thanks to its user-friendly design and clear instructions. Whether you're a seasoned installer or a DIY enthusiast, you'll have your access control system up and running quickly.
Versatile Application: Suitable for a wide range of access control scenarios, from commercial buildings and offices to residential properties and more. The UA-Lock-Electric is highly adaptable to meet your specific security needs.
Enhanced Security: Say goodbye to traditional keys and embrace modern security. The UA-Lock-Electric reduces the risk of unauthorised access, providing an additional layer of protection for your property and assets.
Upgrade your access control system with the UniFi Access UA-Lock-Electric and experience the perfect fusion of security and convenience. Trust in a brand known for innovation, reliability, and exceptional performance. Elevate your security game today.
Mechanical
Dimensions
Lock body: 80 x 40 x 35 mm (3.15 x 1.57 x 1.38")
Short front plate: 124 x 32 x 3 mm (4.88 x 1.26 x 0.12")
Long front plate: 202 x 36 x 3 mm (7.95 x 1.42 x 0.12")
Weight
Lock body: 185 g (6.5 oz)
Short front plate: 50 g (1.8 oz)
Long front plate: 130 g (4.6 oz)
Enclosure materials
Lock body: zinc alloy
Front plate/latches: stainless steel
Hardware
Voltage
12VDC
Current power
400mA ±10%
Wiring connection
Connect the two screw terminal separately to powered lock relay on UA-Hub: NO, COM
Lock type
Fail secure lock
Single door
Lock holding force
1,200 kg (2,645 lb)
Suitability
Wooden
Steel
Aluminum
Screw terminal
+ and -
Operating temperature
-10 to 45° C (14 to 113° F)
Operating humidity
5 - 90% noncondensing
Certifications
FCC, IC, CE
There is no box content detail for this product yet.
There are no reviews for this product yet.
Frequently Purchased Together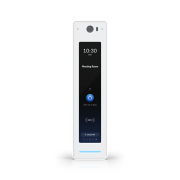 UA-G2-Pro
Ubiquiti Access Reader
12 in stock
View Product
UA-Hub
Ubiquiti UniFi Access H
10 in stock
View Product