MikroTik RB5009 Heavy-Duty 8 Port PoE Router - RB5009UPr+S+IN
MikroTik RB5009UPr+S+IN
£312.00
Availability: Despatched next working day
Linitx Quick Code # 17169
Manufacturer SKU: RB5009UPr+S+IN

Manufacturer: MikroTik
Quantity
1+
10+
20+
50+
100+
250+
Price
£260.00

EXC VAT

£257.40

EXC VAT

£254.80

EXC VAT

£250.90

EXC VAT

£247.00

EXC VAT

Call Us 01449 888000

|
|
|
|
MikroTik RB5009 Heavy-Duty 8 Port PoE Router - RB5009UPr+S+IN
The MikroTik RB5009UPr+S+IN features Gigabit Ethernet, 2.5 Gigabit Ethernet, and a 10 Gigabit SFP+ cage for fibre connectivity. It also features PoE-in [802.3af/at on Port1 & Passive 24v on Port2-8] & PoE-out on all 8 Ethernet ports . Users have the option of using the 2-pin connector or DC jack, giving 10 separate ways of powering up the unit.

MikroTik RB5009UPr+S+IN supports a wide voltage range of 24 – 57 V. Mixed voltages are not supported – if you're using PoE-out to power other devices, the unit will choose the highest voltage (DC jack or the 2-pin connector) to power those.

Each PoE-out port can supply up to 25W of power. All the ports combined are limited to 130W, which should be adequate for most setups. You can specify maximum available power from your power sources manually, if necessary. When it comes to PoE-out features, the new RB5009 can trade blows with our legendary PoE switches: MikroTik CRS354 & CRS328.

The MikroTik RB5009UPr+S+IN's tiny form-factor gives users a number of ways to install and mount on location: from confined spaces to huge corporate server rooms. They are so compact that you can mount 4 of these routers in a single 1U rackmount space.

MikroTik RB5009UPr+S+IN Specifications
10/100 Ethernet ports
None
10/100/1000 Ethernet ports
7
CPU nominal frequency
350-1400 (auto) MHz
DC jack input Voltage
24-57 V
Max Power consumption
15 W
Max power consumption (W)
150 W
PoE in input Voltage
24-57 V
USB slot type
USB 3.0 type A
Wireless 1 Number of chains
0
Box Contents:
1 x RB5009UPr+S+IN router
1 x K-55 screw kit

1 x IEC UK power cord

1 x 48V2A96W PSU

Steve
2 months ago
Great kit, a bit to learn.
Please note that links to other websites are beyond our control. We link in good faith and are not be responsible for their content.
MikroTik RB5009UPr+S+IN Brochure
Alternative Products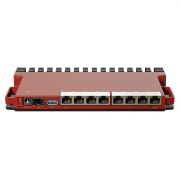 L009UiGS-RM
MikroTik L009 8 Port Po
198 on order
On Backorder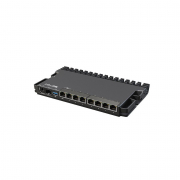 RB5009UG+S+IN
MikroTik 5009UG+ Compac
38 in stock
View Product
Frequently Purchased Together