Ubiquiti PowerCable 12 AWG Power Cable - PC-12
Ubiquiti Networks PC-12
£684.00
Availability:DISCONTINUED
Linitx Quick Code # 14927
Manufacturer SKU: PC-12

Manufacturer: Ubiquiti Networks
Quantity
1+
10+
20+
50+
100+
250+
Price
£570.00

EXC VAT

£564.30

EXC VAT

£558.60

EXC VAT

£550.05

EXC VAT

£541.50

EXC VAT

Call Us 01449 888000

|
|
|
|
The Ubiquiti PowerCable 12 AWG is Ubiquiti's first carrier-grade outdoor electrical cable. PowerCable is designed to be used with the Ubiquiti Edgepower to supply reliable DC power to all your Edgepoint devices and is available in 304m (1000ft) lengths.
Built to Last: Ubiquiti PowerCable features an all-weather design and operates in temperatures ranging from -30 to 90C. PowerCable uses a polyethylene jacket which is both UV and fire resistant.
Reliable High Power: Ubiquiti PowerCable features 12 AWG stranded tinned copper conductors, capacitance of 28pF/ft at 1kHz, DCR of 1.77 ohms/1000 ft at 20C, voltage rating at 300V, and impedance of 56 ohms.
Download the datasheet here
Specifications:
12 AWG Tinned Stranded Copper
Fire-Resistant Polyethylene Jacket(FT-1)
Temperature Range: -30 to 90C.
Pull Tension: 80lb Minimum
Capacitance: 28pF/ft at 1kHz
DCR: 1.77 ohms/1000ft at 20C
Voltage Rating: 300V
Impedance: 56 ohms
There is no box content detail for this product yet.
There are no reviews for this product yet.
There are no datasheets for this product yet.
Frequently Purchased Together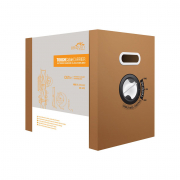 TC-CARRIER
Ubiquiti TOUGHCable Car
21 in stock
View Product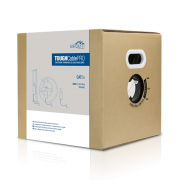 TC-PRO
Ubiquiti TOUGHCable Pro
107 in stock
View Product
TC-CON/100
Ubiquiti TOUGHCable RJ4
20 in stock
View Product