MikroTik RouterBoard wAP ac in a White enclosure (UK PSU) - RBwAPG-5HacD2HnD
MikroTik RBwAPG-5HacD2HnD
In Stock
3 available

20 more arriving 22-Apr-2022


Login to preorder
£88.80
Availability: Despatched today
if ordered within the next 0 mins
Linitx Quick Code # 16793
Manufacturer SKU: RBwAPG-5HacD2HnD

Manufacturer: MikroTik
Quantity
1+
10+
20+
50+
100+
250+
Price
£74.00

EXC VAT

£73.26

EXC VAT

£72.52

EXC VAT

£71.41

EXC VAT

£70.30

EXC VAT

Call Us 01449 888000

|
|
|
|
The wAP ac is a small weatherproof wireless access point for your mobile devices, perfect for installation outside your house, in the garden, on your porch, or anywhere else where you need a capable wireless connection. The new revision features 2x Gigabit Ethernet ports, enhanced wireless antenna performance, more RAM, and a powerful quad-core CPU!
Strong dual-chain dual-band 2.4/5 GHz wireless for concurrent coverage will solve most interference issues in a crowded environment. This is a must-have these days! You can use the 2.4 GHz channel for older devices and the 5 GHz channel for everything else since this frequency is less cluttered.
The wAP ac is weatherproof and can be fixed to any external wall from the inside of the case – for extra security and less visible attachments. The bottom part can also be secured with a special anti-vandal screw, which can only be opened by the owner.
There is an opening in the back of the case, allowing you to run the Ethernet cable directly behind the unit and through the wall. This way the wAP ac attracts less attention and blends into any environment.It looks unobtrusive and sleek, available in two colors - black (RBwAPG-5HacD2HnD-BE) and white (RBwAPG-5HacD2HnD).
Product Specifications:
Product code
RBwAPG-5HacD2HnD
Architecture
ARM 32bit
CPU
IPQ-4018
CPU core count
4
CPU nominal frequency
716 MHz
Dimensions
185 x 85 x 30 mm
RouterOS license
4
Operating System
RouterOS
Size of RAM
128 MB
Storage size
16 MB
Storage type
FLASH
MTBF
Approximately 100'000 hours at 25C
Tested ambient temperature
-40°C to 70°C
IPsec hardware acceleration
Yes
Package Contents:
1 x RBwAPG-5HacD2HnD
1 x 24V 1.2A PSU
1 x Gigabit PoE Injector
1 x K52 Screw Kit
1 x wAP Desktop Stand
1 x wAP Mount Bracket
1 x wAP Mount
1 x Jubilee Clip
There are no reviews for this product yet.
There are no datasheets for this product yet.
Alternative Products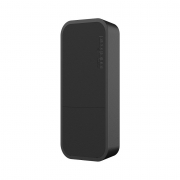 RBwAPG-5HacD2HnD-BE
MikroTik RouterBoard wA
18 in stock
View Product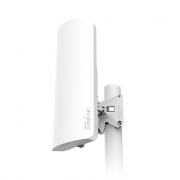 RBD22UGS-5HPacD2HnD-15S
MikroTik mANTBox 52 15s
22 in stock
View Product
Frequently Purchased Together