Peplink Balance One Dual-WAN Router - BPL-ONE
PepLink BPL-ONE
£444.00
Availability:Awaiting Date from Manufacturer
Linitx Quick Code # 15853
Manufacturer SKU: BPL-ONE

Manufacturer: PepLink
Quantity
1+
10+
20+
50+
100+
250+
Price
£370.00

EXC VAT

£366.30

EXC VAT

£362.60

EXC VAT

£357.05

EXC VAT

£351.50

EXC VAT

Call Us 01449 888000

|
|
|
|
The Peplink Balance One Dual-WAN router with load balancing delivers reliable big-business up-time and speed in an affordable feature rich package. Designed purely for SMBs, branch offices, and domestic power users. The Balance One supports a multitude of advanced routing features such as; Hot/Intelligent Failover, IPsec VPN, Web Blocking and Bandwidth Allowance Monitor. All powered by the Peplink Balance Software.
600Mbps Throughput. Dual WAN Support - Drives data at 600Mbps and keeps connections dependable and fast with automatic balancing and failover between links.
Built-in AP Controller and InControl 2 - Built in AP Controller or InControl 2 cloud management puts you in charge of all connected access points, create and manage custom captive portals.
Simultaneous Dual-Band with 11ac Wi-Fi - Balance One (BPL-ONE) gives you two independent networks that also work together, so all your devices can connect without clashing. Recommended 60 Concurrent users.
Enterprise Features - Connect remote clients to your private network using L2TP with IPsec, monitor Bandwidth Usage, allocate bandwidth for user groups, and more.
Eight GbE LAN Ports - Connect all your devices at high speeds, without complicated setup, compromises, or external switches to buy and maintain.
Unparalleled Modem Support - The Balance One's USB port supports more than 250 4G LTE/3G modems used by a variety of carriers worldwide.
Here's our in depth blog post on the Peplink software features.
Peplink Balance One Features
WAN
Support for PPPoE, Static IP, DHCP
WAN Link Health Check
Bandwidth Allowance Monitor
USB 4G/3G Modem Support
Intelligent Failover
Support for Dynamic DNS services
LAN
DHCP Server for LAN Clients
Extended DHCP Option
DHCP Reservation
DNS Proxy for LAN Clients
Load Balancing
Intelligent Failover
Session Persistence
Per-Service Load Distribution
Multiple Algorithms
Networking
NAT and IP Forwarding
Static Routes
Port Forwarding
Many to One, One to One NAT
NAT Pool
SIP ALG, H.323 ALG
UPnP, NAT-PMP
WINS Server
Complete VPN Solution
PepVPN/SpeedFusion Hot Failover/SpeedFusion Bandwidth Bonding
Site-to-Site VPN
Bandwidth Aggregation
Hot Failover
256-bit AES Encryption
Pre-shared Key Authentication
Dynamic Routing
L2TP with IPsec VPN Server
PPTP VPN Server
RADIUS, LDAP Authentication
IPsec VPN (Network-to-Network)
Security
Stateful Firewall
DoS Prevention
Web Blocking
Certifications
FCC, CE, RoHS
Advanced QoS
User Groups
Bandwidth Reservation
Individual Bandwidth Limit
Application Prioritisation
By User Groups
SIP, HTTPS, VPN QoS
Custom Application QoS
Captive Portal Support
Support for Wired and Wireless LAN Clients
Support RADIUS Authentication
Time and Usage Quotas on Open Access Mode
Built-in Customisation Splash Page

Balance One Specifications
Product Code
BPL-ONE
WAN Interface
2x GE
Wi-Fi Interface
Simultaneous Dual-Band 802.11a/b/g/n Access Point
Embedded 3G/4G LTE
N/A
USB WAN Modem
1
LAN Interface
8x GE
Recommended Users
1-60
Router Throughput
600Mbps
Data Rates
2x2 MIMO, 2.4GHz: 300Mbps, 5GHz: 300Mbps
Load Balancing & Failover
Yes
PepVPN
Yes
SpeedFusion Hot Failover
Optional Feature
SpeedFusion WAN Smoothing
Optional Feature
SpeedFusion Bandwidth Bonding
Optional Feature
Number of PepVPN/SpeedFusion Peers
2
PepVPN/ SpeedFusion Throughput
30Mbps
Built-in AP Controller
Yes
Maximum Number of AP Support
10
Dimensions
271 x 160 x 30 mm
Gross Weight
1 kg
1x BPL-ONE
1x 12v Power Supply
There are no reviews for this product yet.
There are no datasheets for this product yet.
Frequently Purchased Together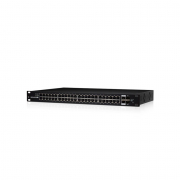 ES-48-500W
Ubiquiti EdgeSwitch 48
73 in stock
View Product
RB4011iGS+RM
MikroTik 4011iGS 10 Por
50 on order
On Backorder