RF elements StarterHorn 30 USMA Symmetrical Horn Antenna - STH-30-USMA
RF elements STH-30-USMA
£81.48
SALE
Price was
£116.40 inc VAT

you save
30%

Availability: Despatched today
if ordered within the next 0 mins
Linitx Quick Code # 16783
Manufacturer SKU: STH-30-USMA

Manufacturer: RF elements

|
|
|
|
RF elements StarterHorn 30 USMA Symmetrical Horn Antenna - STH-30-USMA
The STH-30-USMA from RF Elements is a scalar horn antenna with symmetrical radiation pattern that features an RP-SMA interface for easy connectivity along with supporting direct connection from Ubiquiti Radios with a waveguide connector such as the PrismStation 5AC. This makes the STH-20-USMA a convenient, low investment start for users new to horn antenna installs.
Premium Beam Performance
The main beam is symmetrical with a circular cross section, offering a unique radiation pattern with the azimuth and elevation beam width's both being 30° at -6dB.
High Beam Efficiency
The STH-30-USMA has zero side lobes ensuring efficient use of the 5GHz spectrum whilst also generating a high beam efficiency on the main lobe. As the main lobes shape and gain of the StarterHorn do not change with frequency, the performance of the antenna also remains stable over a wide span of frequencies between the U-NII-1 and U-NII-3 bands.

STH-30-USMA


General
Antenna Connection
RP-SMA Port, Waveguide Port
Antenna Type
Symmetrical Horn
Materials
UV Resistant ABS Plastic, Polyethylene, Aluminium, Stainless Steel
Environmental Rating
IP55
Flame Rating
UL 94 HB
Pole Mounting Diameter
20-55 mm (recommend as close to 55 mm as possible)
Temperature
-30°C to +55°C
Wind Survival
160 km/hour
Wind Loading
23 N at 160km/hour
Mechanical Tilt
± 30°
Weight
1.3 kg
Dimensions
D = 261 mm
L (with RP-SMA Port) = 301 mm
L (without RP-SMA port) = 217 mm
Performance
Frequency Range
5150 - 5950 MHz
Gain
18 dBi
Azimuth Beam Width -3 dB
H 20° / V 20°
Elevation Beam Width -3 dB
H 20° / V 20°
Azimuth Beam Width -6 dB
H 30° / V 30°
Elevation Beam Width -6 dB
H 30° / V 30°
Beam Efficiency*
92 %
Front-to-Back Ratio
33 dB
Compatible Wireless Platforms
Ubiquiti Networks
PrismStation 5AC, IsoStation 5AC, IsoStation M5
Other
Any radio with coaxial output
* Main beam defined up to the first null.
There is no box content detail for this product yet.
There are no reviews for this product yet.
There are no datasheets for this product yet.
Frequently Purchased Together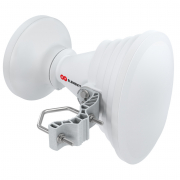 STH-A45-USMA
RF elements Asymmetrica
8 in stock
View Product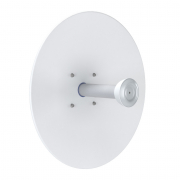 STD-27-UM
RF Elements StarterDish
7 in stock
View Product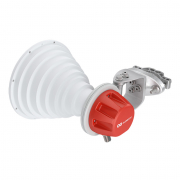 HG3-CC-S30
RF elements Symmetrical
2 in stock
View Product