Tycon 4 Port 90W Managed Gigabit BT PoE Switch + 2 SFP - TP-SW4GBT-2SFP
Tycon TP-SW4GBT-2SFP
£292.80
Availability: Despatched next working day
Linitx Quick Code # 16983
Manufacturer SKU: TP-SW4GBT-2SFP

Manufacturer: Tycon Systems
Quantity
1+
10+
20+
50+
100+
250+
Price
£244.00

EXC VAT

£241.56

EXC VAT

£239.12

EXC VAT

£235.46

EXC VAT

£231.80

EXC VAT

Call Us 01449 888000

|
|
|
|
Tycon Systems 4 Port 90W Managed Gigabit 802.3bt PoE Switch 46-57VDC Input with 2 SFP - TP-SW4GBT-2SFP
The Tycon Systems TP-SW4GBT-2SFP is a high-speed, managed, layer 2 ethernet switch with four gigabit POE++ ports and two 2.5G SFP ports.
The POE functionality of the TP-SW4GBT-2SFP can be managed via the user interface, and each port can offer a power budget of 90W to connected devices for a total POE budget of 360W across the whole switch.
The TP-SW4GBT-2SFP supports SSH and SSL for secure access to the user interface via the serial console port or any of the the ethernet ports. TELNET, SNMP, and HTTP/HTTPS can all also be used to access the user interface.
The TP-SW4GBT-2SFP meets Green Ethernet standards - it can automatically power down the Ethernet drivers in a port when the link is not active and resume the connection without packet loss when link is active again. The ethernet signal strength is also automatically adjusted based on cable length for even more power savings.
TP-SW4GBT-2SFP
Ports
4 Ports 802.3af/at/bt, PoE++ (90W)
2 SFP/LC 2.5Gigabit Fiber Ports
1 Console Port
Ethernet transmission speed
10/100/1000Mbps Auto-negotiation
Fiber transceiver compatibility
155M/1.25G/2.5G Multi Mode or Single Mode
Connections
Shielded RJ45, Shielded SFP/LC, Grounded to Case
Power input
Vin 48VDC to 57VDC on dual input wire terminal (max wire size 12AWG)
Power consumption
< 5 watts typical
LEDs - normal state
Power: Red
System: Green
Ethernet Link: Green Flashing
PoE: Amber
Fiber: Green
POE protections
Over voltage, over current, short circuit
POE pinout
802.3af/at Ports = 1/2 V- ; 3/6 V+ 802.3bt Ports = 1/2,7/8 V- ; 3/6,4/5 V+
Surge protection
6KV normal mode, 2KV differential mode
ESD protection
15KV air, 8KV touch
Management methods
Web, CLI, Telnet, SSH, SNMP
VLANs
Supports up to 4K VLANs simultaneously, port-based VLAN, 802.1Q tag-based VLAN
Port management
Enable/disable port, speed duplex, MTU setting, flow control, mirroring, in/out direction, speed limit, isolation settings, unknown unitcast/multicast/broadcast storm supression
STP
Standard spanning tree (STP) 802.1d, Rapid spanning tree (RSTP) 802.1w, Multiple spanning tree (MSTP) 802.1s
Ring network protocol
ERPS (Ethernet Ring Protection Switching)
Link Aggregation
Static/manual aggregation, LACP dynamic convergence
IGMP v1/v2/v3 snooping
IGMP limits bandwidth intensive multicast traffic to only the required requester; supports 256 multicast groups
MAC management
Add/delete, MAC address learning limit, dynamic ageing time setting
Layer 3 switching functions
Virtual VLAN interface, ARP, static router
ACL (Access Control List)
Based on source MAC, destination MAC, protocol type, source IP, destination IP, L4 port number; supports time-range time management
QOS (Quality Of Service)
802.1p(COS) Classification, DSCP Classification, Source IP/Destination IP/Port Number Classification
Supports SP/WRR/DRR Scheduling Strategy and Traffic Speed Limit (CAR)
Anti-Attack support
DOS defence, CPU protection, limit message send rate, ARP Biding (IP, MAC, PORT)
Other Functions
LLDP, add/delete users, log user login/operation/status/events, port security (dying gasp/SNMP trap), device reset, configuration save/restore, NTP time setting, upgrade management
Jumbo frame support
9.6k
Switching capacity
18 Gbps
Packet forwarding rate
13.39Mpps
Forwarding mode
Store and forward
Package cache
4M
RAM/Flash
128MB/16MB
Address Table
8k MAC, self-learning
Network protocols and standards summary
IEEE 802.3i 10BASET, 802.3u 100BASET, 802.3z 1000BASET, 802.3x Flow Control, 802.3ab Gigabit Media Independent Interface (GMII), 802.1q VLANs, 802.1p (QOS), 802.3ad Link Aggregation Control Protocol (LACP), 802.3af/at/bt (PoE), 802.3az Energy-Saving, IEEE G.8032 Ethernet ring protection (<50ms), (STP) 802.1d, (RSTP) 802.1w, (MSTP) 802.1s
Other industry standards
EMI: FCC Part 15, CISPR (EN55032) class A, EMS: EN61000-4-2 (ESD), EN61000-4-4 (EFT), EN-61000-4-5 (Surge), Shock: IEC 60068-2-27, Free Fall: IEC 60068-2-32, Vibration: IEC 60068-2-6
Environmental protection
IP40
Operating temperature
-40°C to +85°C
Operating humidity
5%-95% (non condensing)
Storage temperature
-40°C to +85°C
MTBF
100,000 hours
Certifications
CE, FCC< RoHS
Dimensions (L x W x H)
155 x 117 x 38 mm
Weight
600g
There is no box content detail for this product yet.
There are no reviews for this product yet.
Please note that links to other websites are beyond our control. We link in good faith and are not be responsible for their content.
TP-SW4GBT-2SFP Quick Start Guide
Frequently Purchased Together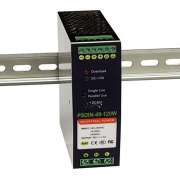 PSDIN-48-120W
Tycon 48V 120W DIN Rail
5 in stock
View Product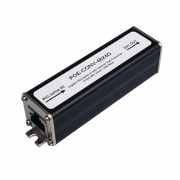 POE-CONV-4824G
Tycon 802.3af/at/bt to
11 in stock
View Product