Tycon GigE 56V PoE Surge Protector 15KV - TP-ESP-1000-POE
Tycon TP-ESP-1000-POE
£33.60
Availability: Despatched today
if ordered within the next 0 mins
Linitx Quick Code # 16975
Manufacturer SKU: TP-ESP-1000-POE

Manufacturer: Tycon Systems
Quantity
1+
10+
20+
50+
100+
250+
Price
£28.00

EXC VAT

£27.72

EXC VAT

£27.44

EXC VAT

£27.02

EXC VAT

£26.60

EXC VAT

Call Us 01449 888000

|
|
|
|
Tycon TP-ESP-1000-POE GigE 56V PoE Surge Protector
The ESP-POE is a low cost Ethernet surge protector to help protect sensitive equipment from surges caused by lightning and grid power fluctuations.
The ESP-POE features a full metal body for improved EMI suppression and has integral mounting feet with a separate ground wire.
ESP-POE are designed primarily for indoor use, however they can be used outdoors inside a weatherproof enclosure.
The ESP-1000-POE is compatible with 10/100/1000M PoE systems up to 57V.
Protection is provided on all 8 CAT5/6 wires.
Features:
10/100/1000Mb Data Rate (24 or 48V POE Model)
CAT5/6 Compatible. All 8 pins protected.
Shielded jacks and full metal housing
Complies with IEC 61643-21 Standard
UL497B Listed
Applications:
Wireless Access Points and Client Devices
IP Phone and Security Camera Systems
Industrial Control Systems
TP-ESP-1000-PO Specifications
Operating Voltage
Data 5V ; PoE 48V
Clamping Voltage
70V POE (All 8 Pins)
Max Surge Discharge Current
5KA (8/20us)
Peak Pulse Current
100A (10/1000us)
Protection Mode
Differential & Common Mode
Insulation Resistance
>1000 MOhm
Shunt Capacitance
< 25 pF
Data Rate
10/100/1000 Mbps
Response Time
<5 ns
Operating Temperature
-40 to +85°C
Storage Temperature
-40 to +125°C
Operating Humidity
0% to 95% non condensing
Size (L x W x H)
102 x 25 x 25mm
Weight
88g
Ground Wire
14 AWG, 26cm long
Connectors
RJ45 Shielded Jacks
IEC Standard
61000-4-5, 61643-21
UL Standard
497B
Shock and Vibration
Mil Std 810G Method 514.7c Category 4 (2014)
and Method 516.7-IV Note 3 (2014)
IEEE/ ANSI Standard
C62.45
MTBF
819,049 Hours
There are no reviews for this product yet.


Please note that links to other websites are beyond our control. We link in good faith and are not be responsible for their content.




Frequently Purchased Together
LHGGM&EG18-EA
Mikrotik LHGG LTE18 Kit
80 on order
On Backorder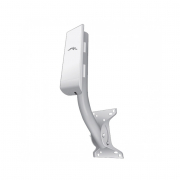 UB-AM
Ubiquiti Universal Arm
194 in stock
View Product