DrayTek Vigor 166 G.fast VDSL2 Modem
DrayTek V166-K
£130.80
Availability: Despatched next working day
Linitx Quick Code # 16864
Manufacturer SKU: V166-K

Manufacturer: DrayTek
Quantity
1+
10+
20+
50+
100+
250+
Price
£109.00

EXC VAT

£107.91

EXC VAT

£106.82

EXC VAT

£105.19

EXC VAT

£103.55

EXC VAT

Call Us 01449 888000

|
|
|
|
DrayTek Vigor 166 G.fast / VDSL2 Modem - V166K
Connect the DrayTek Vigor 166 modem and add G.fast and VDSL2 connectivity to any Ethernet-WAN router.
The Vigor 160 from DrayTek is not a just router, but a true G.fast/VDSL2 Ethernet Modem (bridge) with proven compatibility for UK G.fast and VDSL2 technologies, extensively tested to provide a robust, reliable DSL connection.
Installation is made easy and, in most cases, requires no setup or configuration as the Vigor 166 provides a routed IP connection and the ability to fully manage the connection to the secondary device.
Features:
Pre-Configured G.fast/VDSL2 to Ethernet Bridging Modem
Two Gigabit Lan Port
Built-in Diagnostics (WUI / CLI)
Bridging mode IPTV (YouView, Sky Q) Relay
IPv6 and IPv4 Compatible
DSL Line Stat information relay to DrayTek Vigor routers
Specifications:
Physical Interfaces
- RJ-11 ADSL/VDSL2/G.fast Line
- 2 x RJ-45 - Gigabit 10/100/1000BaseT Ethernet (auto-sensing/MDI-X)
- Power Socket (DC)
- Factory Reset Button
Protocol Support
- ITU-T G.9700, G.9701 G.fast
- ITU-T G.993.1 VDSL
- ITU-T G.993.2 VDSL2
- ITU-T G.997.1
- VDSL Annex A, Annex C, Annex M
- VDSL Profiles: 8a, 8b, 8c, 8d, 12a, 12b, 17a
- VDSL2 Vectoring
- BT SIN 498 MCT Approved
- OLR, UPBO, DBPO, US0
- ANSI T1.413 Issue 2
- ITU-T G.992.1 G.dmt (ADSL)
- ITU-T G.992.3 ADSL2
- ITU-T G.992.5 ADSL2+
- ADSL Annex L (READSL)
- ADSL Annex M
- PPPoA-PPPoE or PPPoE-PPPoE Bridging (WAN to LAN)
- RFC-2684 / RFC-1483
Environmental
Operating: 0 ° ~ 45 ° C
Storage: -25 ° ~ 70 ° C
Humidity: 20% ~ 90% Non-Condensing
Dimensions
Width: 182 mm
Depth: 125 mm
Height: 40 mm
Power
- 220-240VAC (to DC with supplied Plug-Top PSU).
- Power Adapter: DC 12V/1A
- Max. Power: 6 watt
There is no box content detail for this product yet.
There are no reviews for this product yet.
There are no datasheets for this product yet.
Alternative Products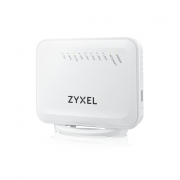 VMG1312-T20B
ZYXEL Wireless N VDSL2
0 in stock
View Product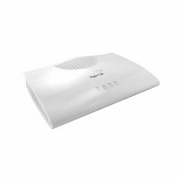 V130-K
DrayTek Vigor 130 VDSL2
0 on order
On Backorder
Frequently Purchased Together