Ubiquiti UniFi Dream Machine Pro - UDM-PRO
Ubiquiti UDM-PRO
£403.20
Availability:Awaiting Date from Manufacturer
Linitx Quick Code # 16313
Manufacturer SKU: UDM-PRO

Manufacturer: Ubiquiti Inc
Quantity
1+
10+
20+
50+
100+
250+
Price
£336.00

EXC VAT

£332.64

EXC VAT

£329.28

EXC VAT

£324.24

EXC VAT

£319.20

EXC VAT

Call Us 01449 888000

|
|
|
|
Ubiquiti UniFi UDM-PRO Dream Machine Pro
The Ubiquiti UniFi Dream Machine Pro is powered by a 1.7 GHz quad-core processor, combining high performance and multiple functions into a single 1U rackmount device;
The UDM-Pro includes the UniFi Network Controller software for managing your UniFi Switches and APs. It can also features UniFi Protect functionality for convenient monitoring and complete management of your camera surveillance system.
Security Gateway - 10 Gbps SFP+ WAN, application visibility, VPN services, and 3.5 Gbps full threat management throughput into a single device.
UniFi Network - Integrated network management system for all network elements with an easy-to-use and modern user interface. Radio AI automatically optimises the Wi-Fi network.
Managed Switch - Fully managed switch with 10 Gbps SFP+ downlink and eight RJ45 GbE ports for scaling up.
UniFi Protect - Professional-grade video surveillance system and NVR with integrated 3.5"/2.5" HDD bay for scalable storage.
Please note that this unit can only run one site. If you need to run multi-sites, please look into the UCK-G2 or the UCK-G2-Plus.
UDM-Pro
Dimensions
442.4 x 43.7 x 285.6 mm
Weight
3.99 kg
Interfaces Networking
(8) 10/100/1000 RJ45 LAN Ports
(1) 10/100/1000 RJ45 WAN Port
(1) 1/10G SFP+ LAN Port
(1) 1/10G SFP+ WAN Port
Interfaces Management
Ethernet In-Band
(1) Bluetooth BLE
IDS/IPS Throughput
3.5 Gbps*
Processor
Quad ARM Cortex-A57 Core at 1.7 GHz
System Memory
4 GB DDR4
On-Board Flash Storage
16 GB eMMC
Max Power Consumption
33W
Voltage Range
100 to 240VAC
Power Method
(1) Universal AC Input, 100-240VAC, 50/60 Hz
(1) RPS DC Input
Power Supply
Internal 50W/12V
LEDs;
HDD
RJ45
SFP+

Activity
Link/Speed/Activity
Link/Speed/Activity
ESD/EMP Protection
Air: +- 16 kV, Contact: +- 12 kV
Operating Temperature
-10 to 40 C
Operating Humidity
5 to 95% Noncondensing
Certifications
CE, FCC, IC
*Measured with iPerf3.
Package Contents:
UDM-Pro
(2) Rackmount Brackets
(8) Bracket Screws
(4) Mounting Screws
(4) Cage Nuts
(1) Security Screw
(4) 2.5" HDD Screws
UK Power Cord
(4) Rubber Feet
Andrew
3 years ago
This is the second time I have installed a UDMPro, and everything works as it should and has been working well since installation


Please note that links to other websites are beyond our control. We link in good faith and are not be responsible for their content.




Alternative Products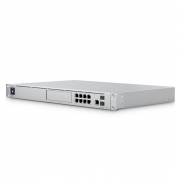 UDM-SE
Ubiquiti Unifi Dream Ma
4 on order
On Backorder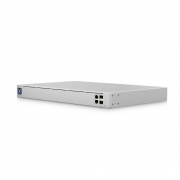 UXG-Pro
Ubiquiti UniFi Next-Gen
15 in stock
View Product
Frequently Purchased Together