Ubiquiti UniFi Outdoor Mesh Pro Access Point - UAP-AC-M-PRO
Ubiquiti UAP-AC-M-PRO
£180.00
Availability: Despatched today
if ordered within the next 0 mins
Linitx Quick Code # 14931
Manufacturer SKU: UAP-AC-M-PRO

Manufacturer: Ubiquiti Inc
Quantity
1+
10+
20+
50+
100+
250+
Price
£150.00

EXC VAT

£148.50

EXC VAT

£147.00

EXC VAT

£144.75

EXC VAT

£142.50

EXC VAT

Call Us 01449 888000

|
|
|
|
UAP-AC-M-PRO - Ubiquiti UniFi AC Outdoor Mesh Pro AP Access Point
Ubiquiti UniFi AC Outdoor Mesh Pro Wifi Access Point (UAP-AC-M-PRO) offers outdoor ranges of up to 183m (600 feet), with its built-in dual-band omni-directional antennas.
The UAP-AC-M-PRO features simultaneous dual-band coverage via the 802.11ac enabled 3x3 MIMO connection, with speeds of up to 1300 Mbps on the 5GHz band and up to 450 Mbps on 2.4 GHz.
The UAP-AC-M-PRO features dual Gigabit Ethernet ports, the primary port is for data transfer and the second port is designed for bridging. Offering multiple power options, this enables users to power via an 802.3af PoE compatible switch or 24V passive PoE, options for power from a 802.3af compatible switch are also available. The UAP AC M PRO can also be powered by the included Gigabit PoE adapter.
The Unifi Mesh Pro features a weather-resistant outdoor enclosure and is designed for outdoor use. It also offers multiple mounting options to a wall or pole, all possible with included mounting accessories.
Please note that Wireless uplink can only use non-DFS channels.
uap ac m pro, uapac m pro, uap ac mpro, uapac mpro, uapacmpro, uapacm pro, mesh pro, unifi mesh pro, mesh pro ac, mesh pro ap
UAP AC-M-PRO Specifications:
Dimensions- 343.2 x 181.2 x 60.2 mm (13.51 x 7.13 x 2.37")
Weight- 633 g
Networking Interface- 2x 10/100/1000 Ethernet Ports
Buttons- Reset
Power Method- 802.3af PoE(Supported Voltage Range: 44 to 57VDC)
Power Supply- 48V, 0.5A PoE Gigabit Adapter (Included)
Maximum Power Consumption- 9W
Maximum TX Power- 2.4 GHz; 22 dBm 5 GHz; 22 dBm/li>
Antennas- 3x Internal Dual-Band Antennas 8 dBi
Wi-Fi Standards- 802.11 a/b/g/n/ac
Wireless Security- WEP, WPA-PSK, WPA-Enterprise (WPA/WPA2, TKIP/AES)
BSSID- Up to Four per Radio
Mounting- Wall/Pole (Pole Kit Included)
Operating Temperature- -40 to 70C
Operating Humidity- 5 to 95% Noncondensing
Certifications- CE, FCC, IC
Advanced Traffic Management:
VLAN- 802.1Q
Advanced QoS- Per-User Rate Limiting
Guest Traffic Isolation- Supported
WMM- Voice, Video, Best Effort, and Background
Concurrent Clients- 200+
Supported Data Rates (Mbps):
802.11ac- 6.5 Mbps to 1300 Mbps (MCS0 - MCS9 NSS1/2/3, VHT 20/40/80)
802.11n- 6.5 Mbps to 450 Mbps (MCS0 - MCS23, HT 20/40)
802.11a- 6, 9, 12, 18, 24, 36, 48, 54 Mbps
802.11g- 6, 9, 12, 18, 24, 36, 48, 54 Mbps
802.11b- 1, 2, 5.5, 11 Mbps
Please note that Wireless uplink can only use non-DFS channels.
Box Contents:
UniFi AC AP Mesh Pro
Mounting Bracket
Pole Clamps (Qty. 2)
Carriage Bolts (Qty. 4)
Flange Nuts (Qty. 4)
Screws (Qty. 4)
Screw Anchors (Qty. 4)
Gigabit PoE Adapter (48V, 0.5A)
UK Power Cord
There are no reviews for this product yet.
Please note that links to other websites are beyond our control. We link in good faith and are not be responsible for their content.
Ubiquiti UAP-AC-M-PRO Datasheet
Alternative Products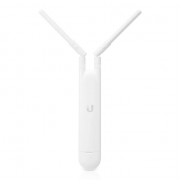 UAP-AC-M
Ubiquiti UniFi UAP AC I
299 in stock
View Product
UAP-AC-M-5
Ubiquiti UniFi AC Outdo
48 in stock
View Product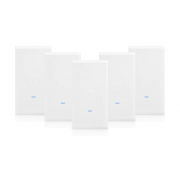 UAP-AC-M-PRO-5
Ubiquiti UniFi AC Mesh
18 in stock
View Product
Frequently Purchased Together