Ubiquiti UniFi AC Outdoor Mesh Access Point 5 Pack - UAP-AC-M-5 (No PoE Injectors)
Ubiquiti UAP-AC-M-5
£468.00
Availability:Awaiting Date from Manufacturer
Linitx Quick Code # 14936
Manufacturer SKU: UAP-AC-M-5

Manufacturer: Ubiquiti Inc
Quantity
1+
10+
20+
50+
100+
250+
Price
£390.00

EXC VAT

£386.10

EXC VAT

£382.20

EXC VAT

£376.35

EXC VAT

£370.50

EXC VAT

Call Us 01449 888000

|
|
|
|
UniFi UAP-AC-M-5 AC Outdoor Mesh Wireless Access Point 5 Pack
With its compact form factor, the UniFi AC Mesh is designed to discreetly integrate into any environment and is designed to be used indoors or outdoors.
The UniFi AC Mesh AP is compatible with 24V passive PoE and 802.3af PoE Alternative A. Power options are via 802.3af Alternative A compatible switch, UniFi PoE Switch, EdgePoint EP-R6, or the included PoE adapter.
Dynamic LED provides alerts for each device and administrator location tracking.
The UniFi AC Mesh can be mounted on a pole, wall, or quick-mount from a Ubiquiti high-gain antenna (all included).
Features:
802.11ac Wave 1 WiFi technology

Dual omnidirectional antennae with 2x2 MIMO functionality

5 GHz band with an 867 Mbps throughput rate

2.4 GHz band with a 300 Mbps throughput rate

(2) RP-SMA connectors for customized pattern shaping

Powered with 802.3af PoE* or 24V passive PoE

(1) GbE RJ45 port

Specifications:
Dimensions- 353 x 46 x 34.4 mm (13.9 x 1.81 x 1.35")
Weight- 152g with Antennas
Networking Interface- 1x 10/100/1000 Ethernet Port
Buttons- Reset
Power Method- 24V Passive PoE (Pairs 4, 5+; 7, 8 Return); 802.3af Alternative A (Pairs 1, 2+; 3, 6 Return) (Supported Voltage Range: 44 to 57VDC)
Maximum Power Consumption- 8.5W
Maximum TX Power- 2.4 GHz; 20 dBm 5 GHz; 20 dBm
Antennas- 2x External Dual-Band Omni Antennas. 2.4 GHz; 3 dBi 5 GHz; 4 dBi
Wi-Fi Standards- 802.11 a/b/g/n/ac
Wireless Security- WEP, WPA-PSK, WPA-Enterprise (WPA/WPA2, TKIP/AES)
BSSID- Up to Four per Radio
Mounting- Wall/Pole/Fast-Mount (Kits Included)
Operating Temperature- -30 to 70C
Operating Humidity- 5 to 95% Noncondensing
Certifications- CE, FCC, IC
Advanced Traffic Management:
VLAN- 802.1Q
Advanced QoS- Per-User Rate Limiting
Guest Traffic Isolation- Supported
WMM- Voice, Video, Best Effort, and Background
Concurrent Clients- 200+
Supported Data Rates (Mbps):
802.11ac- 6.5 Mbps to 867 Mbps (MCS0 - MCS9 NSS1/2/3, VHT 20/40/80)
802.11n- 6.5 Mbps to 300 Mbps (MCS0 - MCS23, HT 20/40)
802.11a- 6, 9, 12, 18, 24, 36, 48, 54 Mbps
802.11g- 6, 9, 12, 18, 24, 36, 48, 54 Mbps
802.11b- 1, 2, 5.5, 11 Mbps
Box Contents:
5 x UniFi AC Mesh
5 x Antennas (Qty. 2)
5 x Wall Mount Bracket
5 x Screws (Qty. 2)
5 x Screw Anchors (Qty. 2)
5 x Zip Ties (Qty.2)
5 x Fast-Mount Adapter
There are no reviews for this product yet.
Alternative Products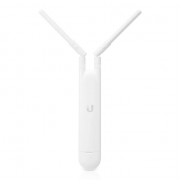 UAP-AC-M
Ubiquiti UniFi UAP AC I
902 on order
On Backorder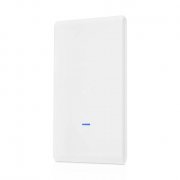 UAP-AC-M-PRO
Ubiquiti UniFi Outdoor
16 on order
On Backorder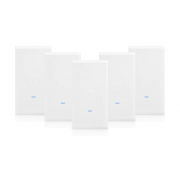 UAP-AC-M-PRO-5
Ubiquiti UniFi AC Mesh
20 on order
On Backorder
Frequently Purchased Together