Ubiquiti UniFi Protect Network Video Recorder Pro - UNVR-PRO
Ubiquiti Networks UNVR-PRO
£588.00
Availability:Awaiting Date from Manufacturer
Linitx Quick Code # 16694
Manufacturer SKU: UNVR-PRO

Manufacturer: Ubiquiti Networks
Quantity
1+
10+
20+
50+
100+
250+
Price
£490.00

EXC VAT

£485.10

EXC VAT

£480.20

EXC VAT

£472.85

EXC VAT

£465.50

EXC VAT

Call Us 01449 888000

|
|
|
|
Ubiquiti UniFi Protect Network Video Recorder Pro - UNVR-PRO
The UNVR-PRO is a 2U rack mount enterprise grade network video recorder running the UniFi protect software which supports up to 7 SSD/HDD's in a RAID 1 or RAID 5 configuration for reliable, worry-free video storage over up to 50 days at 4K quality on 15 cameras, or Full HD for 50 cameras.
A built in 1.3" touchscreen display conveniently displays some basic information straight from the device itself and also offers a video event preview*, with 10G SFP+ and Gigabit RJ45 LAN ports available for local video access.
Features:


(7) 2.5"/3.5" Drive bays
(1) 10G SFP+ Port
(1) Gigabit RJ45 port
2U rack-mountable (kit included)


1.3" Touchscreen with video event preview*
UniFi Protect Integrated within NVR
Bluetooth for easy setup with UniFi Protect App
Automated secure RAID 1/5
USP-RPS* support for redundant power backup
*Available in future firmware upgrade

UNVR-PRO


Mechanical
Dimensions
442 x 325 x 87 mm
Weight:
Without Rackmount Brackets
With Rackmount Brackets

9.2 kg
9.45 kg
Enclosure Material
SGCC Steel
Mount Materials
SGCC Steel
Hardware
Processor
Quad-Core ARM® Cortex®-A57 at 1.7 GHz
System Memory
4 GB
On-Board Flash Storage
32GB
Max. Power Consumption
160W
Max. Power Budget for Drives
135W
Power Method
(1) Universal AC input, 100-240VAC, 3A Max, 50/60 Hz
(1) USP-RPS DC input, 11.5VDC, 13.91A
Power Supply
AC/DC, Internal, 200W
Networking Interfaces
(1) 10/100/1000 Mbps RJ45 Ethernet
(1) 1/10 Gbps SFP+ Ethernet
RF Interface
(1) Bluetooth v4.1
LCM Display
(1) 1.3" Touchscreen
Bootup Animation: Bootup in Progress
Firmware Upgrade Icon: Firmware Upgrading
Steady White: Factory Defaults, Awaiting Adoption
Steady Blue: Device is Adopted
Management Interface
Ethernet In-Band Management
ESD/EMP Protection
Air: ± 12kV, Contact: ± 8kV
Operating Temperature
-5 to 40° C
Operating Humidity
5 - 95% Noncondensing
Certifications
FCC, CE, IC
LEDs
Ethernet
Green: 1000 Mbps
Amber: 10/100 Mbps
SFP+
White: 10 Gbps
Green: 1 Gbps
HDD
Amber: Disk Error
White: Disk Detected
RPS
Blue: Ready
There is no box content detail for this product yet.
There are no reviews for this product yet.
There are no datasheets for this product yet.
Alternative Products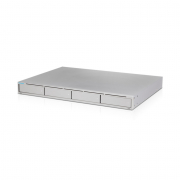 UNVR
Ubiquiti UniFi Protect
20 on order
On Backorder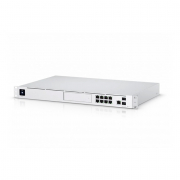 UDM-PRO
Ubiquiti UniFi Dream Ma
30 in stock
View Product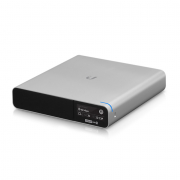 UCK-G2-PLUS
Ubiquiti UniFi Cloud Ke
196 on order
On Backorder
Frequently Purchased Together