Draytek VigorSwitch P2100 8 Port PoE Layer 2+ Managed Switch SFP - VSP2100-K
DrayTek VSP2100-K
£192.00
Availability:Awaiting Date from Manufacturer
Linitx Quick Code # 16998
Manufacturer SKU: VSP2100-K

Manufacturer: DrayTek
Quantity
1+
10+
20+
50+
100+
250+
Price
£160.00

EXC VAT

£158.40

EXC VAT

£156.80

EXC VAT

£154.40

EXC VAT

£152.00

EXC VAT

Call Us 01449 888000

|
|
|
|
Draytek VigorSwitch P2100 8 Port Gigabit PoE Layer 2+ Managed Switch with SFP - VSP2100-K
The Draytek VigorSwitch P2100 is a high-performance managed switch designed to bring additional network connectivity to your business alongside enterprise-level features to improve stability and security.
The VigorSwitch P2100 comes with a generous 140W power budget across 8 POE/POE+ ports to power compatible network devices.
The VigorSwitch P2100 can be used as a standalone device but it truly shines when paired with one of DrayTek's central management options; these include the VigorACS management platform, VigorConnect for on-site management, and Draytek's router-based switch management. Using one of these platforms can drastically reduce the setup time for complex networks as well as allowing setup to be performed remotely.
Physical Interfaces
Ethernet Ports
(8) RJ45 10/100/1000Mbps
SFP Ports
2x 1Gbps
Console Ports
(1) RJ45 physical, (1)RS-232 electrical
Factory Reset Button
Yes (1)
POE Specification
POE Ports
(8) Power Over Ethernet LAN ports - POE PSE Mode A
POE Standards
IEEE 802.3af and 802.3at POE+ (High power) compliant
Power Budget
140W total for POE
Wattage per port
30W
Auto Detection of Powered Device (PD) and Consumption Levels
Yes
Per Port PoE Status LED Indicators
Yes
Alerts
Alert LED and mail alerts for high POE usage
Power Monitoring
Per-port power monitoring via web interface and CLI
Interference Protection
Circuit protection to prevent power interference between ports
POE PD Monitoring and Maintenance Features (per port)
Scheduling
POE PD Priority
Restart POE PD on connection loss
Restart POE IP camera on loss of output
VLAN
Supported VLAN standards
802.1q tag-based VLAN, 802.1v Protocol-Based VLAN, QinQ (Basic)
Port-based and MAC-based VLANs
Yes
GVRP (General VLAN Registration Protocol) Support
Yes
Total VLANs
Up to 256 VLANs
OUI Mode
Voice and Surveillance VLAN
Managment VLAN
Yes
Port Isolation
Yes
QoS (Quality of Service)
Priority Queues
Supports up to 8 priority queues
Port-based Rate Control
Ingress and egress
Priority Queue Schedule
WRR or strict policy
Rate Limit
Yes
Class of Service
802.1p CoS
DSCP
CoS-DSCP
IP Precedence ToS
Security
IP Source Guard with ARP inspection
Yes
Storm Control
Broadcast, unknown multicast, unknown unicast
DoS Attack protetion
Yes
Authentication
AAA, MAC
Protected Port/Port Isolation
Yes
Static Port Security
Yes
Dynamic ARP Inspection
Yes
DHCP Snooping
Yes, with Option 82
Loop Detection and Prevention
Yes
Access Control Lists (ACL)
Up to 512 ACL entries
Source and destination MAC
VLAN ID
IPv4/v6 address
Protocol
TCP/UDP port
Networking
Spanning Tree
Spanning Tree Protocol (STP)
Rapid Spanning Tree Protocol (RSTP)
Multiple Spanning Tree Protocol
Link Aggregation
8 Aggregation groups
Up to 8 ports per group
LACP or Static setup
Supports traffic load balancing
Performance
20Gbps switching capacity
14.88Mpps (64 bytes) forwarding rate
Up to 9KB jumbo frames
4.1Mbit packet buffer size
Multicast
Up to 256 multicast groups
Group filtering/throttling
IGMP snooping (BISS) v2/v3 and IGMP querier v2/v3
Multicast VLAN registration
MLD snooping v1/v2 (immediate leave, report suppression, IGMP/MLD querier)
Authentication, Authorisation, Accounting (AAA)
RADIUS / TACACS+ Authentication for Management
Multiple AAA Servers
MAC / Inaccessible Authentication bypass
RADIUS Authentication 802.1X accounting, guest VLAN, port-based authorisation (802.1x single/multi, MAC-based, web-based)
Attribute assignment (user privilege, VLAN)
TACACS+ Authentication (port authorisation, accounting)
Layer 3 Features
Static Route
VLAN routing
DHCP server (from firmware 2.6.8)
IPv4 Features
DHCP client
DNS client
DHCP server (from firmware 2.6.8), up to 8 subnets, option 82/66/67, snooping, IP source guard
IPv6 Features
Auto configuration
Static IPv6 address and prefix length
Static IPv6 default gateway
IPv6 neighbour discovery (ND)
IPv6 duplicate address detection
ICMPv6
DHCPv6 Client
ONVIF Surveillance Management
Discovery
Yes, for ONVIF-compliant IP cameras
Surveillance topology
Yes
Real-time video streaming
Yes
ONVIF Device Maintenance
Device information
Network settings configuration
Time settings
Reboot
Reset to factory default
Ping check with mail alert on disconnection
Management
Central Managment
Vigor ACS, VigorConnect, Vigor Router Switch Management (requires router firmware support)
IPv4/6 Dual-stack
Yes
LLDP (802.1ab) + MED
Yes
HTTP/HTTPS Managment
Web User Interface (HTTP or HTTPS), Firmware upgrade/backup by HTTP/HTTPS, HTTP (non-TLS) can be disabled for increased security), system reboot
Configuration management options
Backup and restore, factory default
Command Line Interface (CLI)
SSH/Telnet, console RJ45 port
OpenVPN
Yes - client with certificate-based authentication
Monitoring
SNMP v1, v2c, v3 (with generic traps)
RMON Groups 1, 2, 3, 9 (History, Statistics, Alarms, Events)
SNTP (Simple Network Time Protocol
Yes
Diagnostics
Displays
Port status and usage, CPU/RAM usage, MAC address table
Logging
Device check, syslog
Mail Alerts
Port status
Port speed changes
System restart
Device check
IP conflict
ONVIF IP camera snapshot
Tools
Port mirroring
Port diagnostics
Port-based cable test
General IEEE Standards Compliance
802.3
802.3af PoE, 802.3at PoE+, 802.3 10Base-T, 802.3u 100Base-T, 802.3ab 1000Base-T, 802.3x Flow Control, 802.3 Auto-Negotiation, 802.3ad LACP, 802.3az EEE
802.1
802.1q Tag-based VLAN, 802.1p Class of Service, 802.1d STP, 802.1w RSTP, 802.1s MSTP, 802.1ad QinQ, 802.1x Port Access Control, 802.1AB LLDP
Operating Requirements
Power input requirements
100-240VAC
Power supply
Internal
Maximum input power consumption
164.3 Watts
Cooling
Passively cooled
Operating Temperature
0°C to 50°C
Storage Temperature
-20°C to 70°C
Operating Humidity
5% to 90% RH (non-condensing)
Physical Specifications
Dimensions(W x D x H)
319 x 208 x 44 mm
Rack mountable
1U
Weight
2.61 kg
1x VigorSwitch
1x Quick Start Guide
1x Rack Mount Kit (2 Piece) (Screws Included)
1x Console Cable
1x UK PSU
There are no reviews for this product yet.
Please note that links to other websites are beyond our control. We link in good faith and are not be responsible for their content.
VigorSwitch 2100 Datasheet
Frequently Purchased Together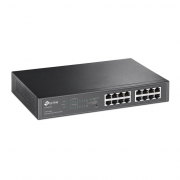 TL-SG1016PE
TP-Link 16 Port Gigabit
4 in stock
View Product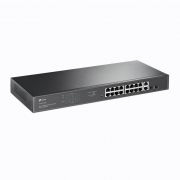 TL-SG1218MP
TP-Link 18 Port Gigabit
1 in stock
View Product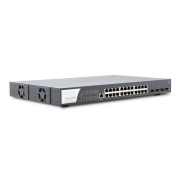 VSP2280x-K
Draytek VigorSwitch P22
0 on order
On Backorder