RF elements Asymmetrical StarterHorn A45 - STH-A45-USMA
RF elements STH-A45-USMA
£141.60
Availability: Despatched next working day
Linitx Quick Code # 17080
Manufacturer SKU: STH-A45-USMA

Manufacturer: RF elements
Quantity
1+
10+
20+
50+
100+
250+
Price
£118.00

EXC VAT

£116.82

EXC VAT

£115.64

EXC VAT

£113.87

EXC VAT

£112.10

EXC VAT

Call Us 01449 888000

|
|
|
|
RF elements asymmetrical StarterHorn A45 - STH-A45-USMA
The RF elements STH-A45-USMA asymmetrical StarterHorn A45 has both RP-SMA and waveguide making it widely compatible with manufacturer radios.
The StarterHorn A45 USMA has unique radiation pattern. The main beam is asymmetrical, with elliptical cross-section: measured at -6dB, the azimuth beam width is 45° and elevation beam width is 30°.
Beam Efficiency (BE) is a side lobes measure with values from 0 to 100%. The higher the BE, the less side lobes an antenna has. StarterHorn A45° USMA has BE of 90 %, suppressing vast majority of interference and providing game changing throughput increase. For reference, BE of widely used patch array sector antennas rarely exceeds 58%!
STH-A45-USMA
Gain
17 dBi
Antenna Connection
Waveguide Port
Radio Connection
2 x RP-SMA female
Environmental
IP55
Operating Temperature
-30°C to +55°C (-22°F to +131°F)

Wind Survival
160 km/h (100 mi/h)

Frequency Range
5150 - 5950 MHz

There is no box content detail for this product yet.
There are no reviews for this product yet.
Frequently Purchased Together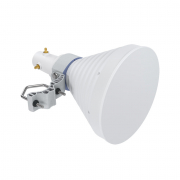 STH-30-USMA
RF elements StarterHorn
12 in stock
View Product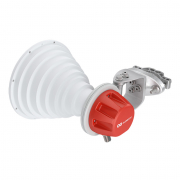 HG3-CC-S30
RF elements Symmetrical
2 in stock
View Product