Ubiquiti UISP airFiber 60 LR Radome Cover - AF60LR-Radome
Ubiquiti AF60LR-Radome
£36.00
Availability: Despatched next working day
Linitx Quick Code # 17270
Manufacturer SKU: AF60LR-Radome

Manufacturer: Ubiquiti Inc
Quantity
1+
10+
20+
50+
100+
250+
Price
£30.00

EXC VAT

£29.70

EXC VAT

£29.40

EXC VAT

£28.95

EXC VAT

£28.50

EXC VAT

Call Us 01449 888000

|
|
|
|
Ubiquiti AF60LR-Radome airFiber 60 LR Radome Cover

Ubiquiti AF60LR-Radome Snow Radome Cover is a highly durable snow cover designed to help airFiber 60 LR (AF60 LR) radios withstand harsh winter temperatures and conditions.

The AF60LR-Radome is manufactured from a single piece of polycarbonate, and easily snaps onto a AF60 LR radio without obstructing the built-in LEDs that indicate key device status and configuration information.

Features:

Constructed with highly durable polycarbonate

Quick, snap-on installation

Covers the radio without blocking its LEDs
Mechanical
Dimensions
Ø 414 x 165.1 mm (Ø 6.2 x 6.5")
Weight
570 g (1.26 lb)
Enclosure material
UV Stabilized Polycarbonate

Note: Minimal attenuation (2dB)
Box Contents:
AF60LR-Radome
3 x mounting clips

There are no reviews for this product yet.
Frequently Purchased Together
AM-5G16-120
Ubiquiti airMAX M5 Sect
20 in stock
View Product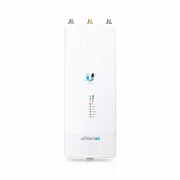 AF-5XHD
Ubiquiti airFiber AF-5X
34 in stock
View Product