Ubiquiti airFiber AF-5XHD WISP PtP Radio 1Gbps+ - AF-5XHD
Ubiquiti AF-5XHD
On Order
0 available

22 arriving 16-Jun-2023


Login to preorder
£450.00
Availability:On Order
Linitx Quick Code # 15252
Manufacturer SKU: AF-5XHD

Manufacturer: Ubiquiti Inc
Quantity
1+
10+
20+
50+
100+
250+
Price
£375.00

EXC VAT

£371.25

EXC VAT

£367.50

EXC VAT

£361.88

EXC VAT

£356.25

EXC VAT

Call Us 01449 888000

|
|
|
|
AF-5XHD - Ubiquiti airFiber AF5XHD Point to Point Radio
Please note, in order to create a PtP Link, customers will require 2 of these units and suitable antennas like the Ubiquiti AirFiber Dish AF-5G23-S45 or the Ubiquiti AirFiber Dish AF-5G30-S45.
The Ubiquiti airFiber 5XHD WISP PtP Point to Point Radio (AF-5XHD) is a direct replacement for the AF-5X.
The AF-5XHD features industry leading 21.2 bps/Hz spectral efficiency*, line-rate data packet processing for up to 1.34Gbps of real data throughput*, and innovative xtreme Range Technology (xRT).
The Ubiquiti airFiber's provides low latency, long range capability, DFS flexibility, higher constellations, and better power output, along with improved receive sensitivity.
The airFiber 5XHD is designed specifically for the Wireless ISP industry from the ground floor up, it has custom LTU silicon and radio architecture to provide breakthrough performance.
* Assuming 4096QAM; available with a future firmware upgrade.
AF-5XHD
Dimensions
224 x 82 x 48 mm
Weight
0.35 kg
RF Connectors
(2) RP-SMA Weatherproof (CH0, CH1)
(1) SMA Weatherproof (GPS)
GPS Antenna
External, Magnetic Base
Power Supply
24V, 1A Gigabit PoE Adapter (Included)
Power Method
Passive Power over Ethernet
Pins 1, 2, 4, 5 (+) and Pins 7, 8, 3, 6 (-)
Max. Power Consumption
6-12W
Supported Voltage Range
19-50VDC
Mounting
airFiber X Mount (Rocket Mount Compatible)
GPS Pole Mount (Included)
Operating Temperature
-40 to 55 C
Weatherproofing
IP67*
Certifications
CE, FCC, IC
Data Port
(1) 10/100/1000 Ethernet Port
Management Port
(1) 10/100/1000 Ethernet Port
Bluetooth
Bluetooth v4.0
Processor
airFiber LTU IC
Maximum Throughput
1.34 Gbps
Packets per Second
2+ Million
Latency
1.5 ms - 3.5 ms
Encryption
AES-256
OS
airFiber-airOS 8
Wireless Modes
Master/Slave
* After installation of IP67 kit (Included).
Box Contents:
airFiber AF-5XHD
GPS Antenna Mount
External GPS Antenna
Metal Strap
Zip Ties (Qty. 2)
Universal Bracket
IP67 Upgrade Kit (Vent and Gasket)
Gigabit PoE (24V, 1A) with Mounting Bracket
UK Power Cord
There are no reviews for this product yet.
Alternative Products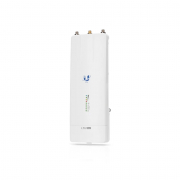 LTU-ROCKET
Ubiquiti LTU BaseStatio
3 in stock
View Product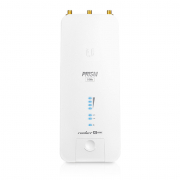 RP-5AC-GEN2
Ubiquiti airMAX Rocket
0 on order
On Backorder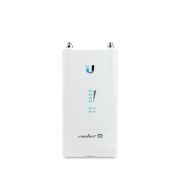 R5AC-LITE
Ubiquiti airMAX Rocket
3 in stock
View Product
Frequently Purchased Together