Ubiquiti UniFi AC Outdoor Mesh Wireless Access Point UAP-AC-M-5 5 Pack (No PoE Injectors)
Ubiquiti Networks UAP-AC-M-5
£432.00
Availability:Awaiting Date from Manufacturer
Linitx Quick Code # 14936
Manufacturer SKU: UAP-AC-M-5

Manufacturer: Ubiquiti Networks
Quantity
1+
10+
20+
50+
100+
250+
Price
£360.00

EXC VAT

£356.40

EXC VAT

£352.80

EXC VAT

£347.40

EXC VAT

£342.00

EXC VAT

Call Us 01449 724255

|
|
|
|
UniFi UAP-AC-M-5 AC Outdoor Mesh Wireless Access Point 5 Pack
Compact Form Factor: The UniFi AC Mesh AP is designed to discreetly integrate into any environment.
Weather-Resistant Enclosure: The enclosure has been designed to be used indoors or outdoors.
LED: Unique provisioning LED provides administrator location tracking and alerts for each device.
Versatile Mounting: The UniFi AC Mesh AP can be mounted on a wall, pole, or fast-mount of a Ubiquiti high-gain antenna. (All accessories are included.)
Multiple Power Options: The UniFi AC Mesh AP is compatible with 802.3af PoE Alternative A and 24V passive PoE. You can power it with an 802.3af Alternative A compatible switch, EdgePoint EP-R6, UniFi PoE Switch, or the included Gigabit PoE adapter.
Antenna Options: Use the included omni antennas, or use the included fast-mount adapter to install the AP on an optional connectorized antenna for expanded range coverage and customized pattern shaping.
Specifications:
Dimensions- 353 x 46 x 34.4 mm (13.9 x 1.81 x 1.35")
Weight- 152g with Antennas
Networking Interface- 1x 10/100/1000 Ethernet Port
Buttons- Reset
Power Method- 24V Passive PoE (Pairs 4, 5+; 7, 8 Return); 802.3af Alternative A (Pairs 1, 2+; 3, 6 Return) (Supported Voltage Range: 44 to 57VDC)
Maximum Power Consumption- 8.5W
Maximum TX Power- 2.4 GHz; 20 dBm 5 GHz; 20 dBm
Antennas- 2x External Dual-Band Omni Antennas. 2.4 GHz; 3 dBi 5 GHz; 4 dBi
Wi-Fi Standards- 802.11 a/b/g/n/ac
Wireless Security- WEP, WPA-PSK, WPA-Enterprise (WPA/WPA2, TKIP/AES)
BSSID- Up to Four per Radio
Mounting- Wall/Pole/Fast-Mount (Kits Included)
Operating Temperature- -30 to 70C
Operating Humidity- 5 to 95% Noncondensing
Certifications- CE, FCC, IC
Advanced Traffic Management:
VLAN- 802.1Q
Advanced QoS- Per-User Rate Limiting
Guest Traffic Isolation- Supported
WMM- Voice, Video, Best Effort, and Background
Concurrent Clients- 200+
Supported Data Rates (Mbps):
802.11ac- 6.5 Mbps to 867 Mbps (MCS0 - MCS9 NSS1/2/3, VHT 20/40/80)
802.11n- 6.5 Mbps to 300 Mbps (MCS0 - MCS23, HT 20/40)
802.11a- 6, 9, 12, 18, 24, 36, 48, 54 Mbps
802.11g- 6, 9, 12, 18, 24, 36, 48, 54 Mbps
802.11b- 1, 2, 5.5, 11 Mbps
Box Contents:
5 x UniFi AC Mesh
5 x Antennas (Qty. 2)
5 x Wall Mount Bracket
5 x Screws (Qty. 2)
5 x Screw Anchors (Qty. 2)
5 x Zip Ties (Qty.2)
5 x Fast-Mount Adapter
There are no reviews for this product yet.
There are no datasheets for this product yet.
Alternative Products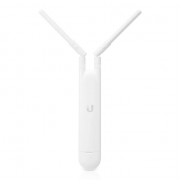 UAP-AC-M
Ubiquiti UniFi AC Indoo
483 on order
On Backorder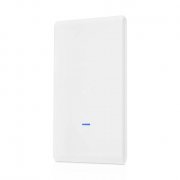 UAP-AC-M-PRO
Ubiquiti UniFi AC Outdo
114 on order
On Backorder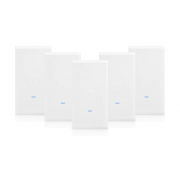 UAP-AC-M-PRO-5
Ubiquiti UniFi AC Mesh
7 on order
On Backorder
Frequently Purchased Together