Teltonika RUT950 Dual-Sim LTE Router
Teltonika RUT950
DISCONTINUED
0 available

Replaced by RUT951100200
£156.00
Availability:DISCONTINUED
Linitx Quick Code # 15466
Manufacturer SKU: RUT950

Manufacturer: Teltonika Networks
Quantity
1+
10+
20+
50+
100+
250+
Price
£130.00

EXC VAT

£128.70

EXC VAT

£127.40

EXC VAT

£125.45

EXC VAT

£123.50

EXC VAT

Call Us 01449 888000
This product is "End Of Life"

|
|
|
|
RUT950 Teltonika Dual-Sim LTE Router
The Teltonika RUT950 Dual-Sim LTE Router is an extremely reliable and secure LTE router designed for the professional and industrial market. The RUT950 delivers robust high performance for mission-critical cellular communication to remote sites and more.
The Teltonika RUT950 provides peace of mind with seamless connectivity redundancy through Dual-SIM failover. Every job is unique so the external antenna connectors on the RUT950 allow you to attach the most suitable antenna for your application and best optimise the signal in your location.
For customers not needing dual sim support, we also stock a similar LTE router at a lower price point - the Teltonika RUT240 LTE Router, please see our product page for more information.
LTE support- Enjoy the freedom of an LTE internet connection, whether it's a camping trip, your home or office, a car journey or public transport the RUT950 has you covered. This compact router supports high speed LTE CAT4, which provides speeds of up to 150 Mbps for your leisure or business demands.
Wireless network- With built-in WiFi connectivity you can free yourself from cumbersome Ethernet-based on-site maintenance and streamline your installation with one less device. The RUT950 can also provide client WiFi connectivity.
Input and Output- With configurable inputs you can monitor a wide range of external events such as, water level crossing its threshold or a simple door sensor. Receive alerts remotely either via SMS or e-mail.
Dual-SIM slots- The Teltonika RUT950 provides peace of mind with seamless connectivity redundancy through Dual-SIM failover.
RMS support- Manage your network of routers remotely. With the support of the centralised Teltonika Remote Management System you will be able to access, control and monitor all of your routers within a single platform.
You can find the RUT950 datasheet here.
Teltonika RUT950 Specifications:
MOBILE
Mobile module
4G (LTE) - Cat 4 up to 150 Mbps, 3G - Up to 42 Mbps, 2G - Up to 236.8 kbps.
SIM switch
2 SIM cards, auto-switch cases: weak signal, data limit, SMS limit, roaming, no network, network denied, data connection fail, SIM idle protection
Status
Signal strength, SINR, RSRPO, RSRQ, Bytes sent/received
Bridge
Direct connection (bridge) between mobile ISP and device on LAN
SMS
SMS status, SMS configuration, send/read SMS via HTTP POST/GET, EMAIL to SMS, SMS to EMAIL, SMS to HTTP, SMS to SMS, scheduled SMS, SMS autoreply, SMPP
Black/White list
Operator black/white list
Multiple PDN (optional)
Possibility to use different PDNs for multiple network access and services
WIRELESS
Wireless mode
IEEE 802.11b/g/n, Access Point (AP), Station (STA)
WiFi
WPA2-Enterprise (with external/internal Radius server), WPA2-PSK, WPA-PSK, WEP, MAC Filter
WiFi security
WPA2-Enterprise - PEAP, TLS, TTLS. AES-CCMP, TKIP, Auto Cipher modes. Client separation
SSID
SSID stealth mode and access control based on MAC address
WiFi users
Up to 100 simultaneous connections
Hotspot
Captive portal (Hotspot), internal/external Radius server , built in customizable landing page
ETHERNET
WAN
1 x WAN (can be configured to LAN) 10/100 Mbps, comply IEEE 802.3, IEEE 802.3u standards, supports auto MDI/MDIX
LAN
3 x LAN ports, 10/100 Mbps, comply IEEE 802.3, IEEE 802.3u standards, supports auto MDI/MDIX
NETWORK
Routing
Static routing, Dynamic routing (BGP, OSPF v2, RIP v1/v2)
Network protocols
TCP, UDP, IPv4, IPv6, ICMP, NTP, DNS, HTTP, HTTPS, FTP, SMTP, SSL v3, TLS, ARP, VRRP, PPP, PPPoE, UPNP, SSH, DHCP, Telnet, SMPP, MQTT
Connection monitoring
Ping Reboot, Periodic Reboot, LCP and ICMP for link inspection
Firewall
Port forward, traffic rules, custom rules
DHCP
Static and dynamic IP alocation
QoS
Traffic priority quening by source/destination, service, protocol or port
DDNS
Supported >25 service providers, others can be configured manually
Network backup
VRRP, Mobile, Wired and WiFi WAN options, each of which can be used as backup
Load balancing
Balance your internet traffic over multiple WAN connections
NetSnapper (optional)
Mobile connection management, data compression VPN client (not available in standard FW)
SSHFS (optional)
Possibility to mount remote file system via SSH protocol (not available in standard FW)
SYSTEM CHARACTERISTICS
CPU
Atheros Wasp, MIPS 74Kc, 550MHz
RAM
128MB, DDR2
FLASH memory
16MB SPI Flash
POWER
Connector
4 pin industrial DC power socket
Input voltage range
9 – 30 VDC (4 pin industrial socket), reverse polarity protection; surge protection >31VDC 10us max.
PoE (passive)
Passive PoE over spare pairs. Possibility to power up through LAN port, not compatible with IEEE802.3af and 802.3at standards
Power consumption
< 2W idle, < 7W Max.
PHYSICAL INTERFACES (PORTS, LEDS, ANTENNAS, BUTTONS, SIM)
Ethernet
4 x RJ45 ports, 10/100 Mbps
Status LEDs
1 x bi-color connection status LED, 5x connection strength LEDs, 4x LAN status LEDs, 1x Power LED
SIM
2 x SIM slots (Mini SIM -2FF, 2st form factor), 1.8V/3V
Power
4 pin industrial DC power socket
Anntenas
2 x SMA for LTE, 2 x RP-SMA for WiFi antenna connectors
Reset
Reset/restore to default button
PHYSICAL SPECIFICATION
Casing material
Aluminium housing, plastic panels
Dimensions
80 mm x 106 mm x 46 mm (H x W x D)
Weight
235g
Mounting options
DIN rail (can be mounted on two sides), flat surface placement
OPERATING ENVIRONMENT
Operating temperature
-40 C to 75 C
Operating humidity
10% to 90% non-condensing
Ingress Protection Rating
IP30
MTBF
270000 h
Package Contains:
Router RUT950
UK PSU
2 x LTE antennas (swivel, SMA male)
2 x WiFi antennas (swivel, RP-SMA male)
Ethernet cable (1.5 m)
QSG (Quick Start Guide)
Softronic S
5 years ago
Great as a 4G router. OpenVPN works on it but haven't been able to get the OpenVPN slave to work how I want it to.
There are no datasheets for this product yet.
Alternative Products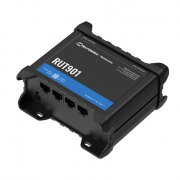 RUT901
Teltonika RUT901 Indust
10 in stock
View Product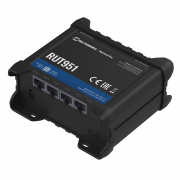 RUT951100200
Teltonika RUT951 Dual S
2 in stock
View Product
Frequently Purchased Together